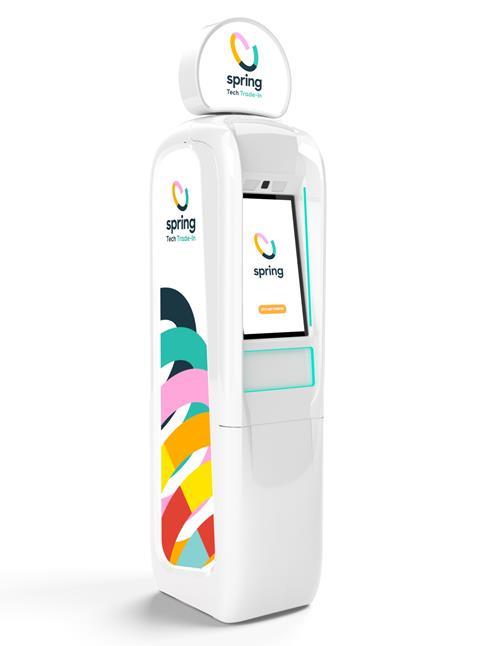 Co-op has partnered with new tech-recirculation service Spring to enable consumers to get their unused electronic devices back into circulation and reduce e-waste. The Spring partnership is initially launching trials in more than 20 Co-op stores in London with kiosk-style 'pods' that enable shoppers to quickly sell their old devices such as phones, tablets, e-readers and smartwatches, which then get repaired, refurbished, reused, or recycled. Further locations are planned in Manchester, Leeds, Brighton and Birmingham.
Spring plans to work with other retailers and organisations and have more than 250 pods across the country within the next 12 months, with the goal of bringing around 100,000 devices back into circulation, saving more than an estimated four thousand tonnes of CO2.
Latest figures show the UK produced almost 1.6 million tonnes of e-waste in 2019, which is the equivalent of 23.9kg per person. The precious materials – including gold, copper, aluminium, and steel – that are discarded within these devices every year are estimated to be worth more than £370 million in the UK alone and are used in several technologies vital to the environment and our wellbeing, including wind turbines, solar panels, artificial joints, and pacemakers.
Spring's pods accept almost 12,000 devices and customers will receive payment to their Spring account in 2-5 days, which can be transferred to a bank account or charity.
Tom Williams, co-founder at Spring said: "Creating a circular economy is key to living more sustainably, that's why we're aiming to get almost 100,000 devices back into the world over the next year. Spring makes it easy for both retailers and consumers to recirculate old tech, which not only puts money in their pockets but also has a major impact on the environment. Starting with Co-op, hundreds of Spring pods will be popping up at retailers around the country in the coming months – find your local one at Spring.co.uk."
Co-op's director of innovation and format Mark Matthews said: "Co-op is committed to operating at the heart of local life and creating value in our communities - we are working to develop new ways to provide added services and choice, conveniently. Our partnership with Spring will make it easy for consumers to recycle or reuse their electronic devices locally and prevent unnecessary waste. Making it easier for consumers to make small changes to their lives, can add up to making a big difference for our environment."