Many c-store retailers are still undecided over their voting intentions in the EU referendum on 23 June. Here we take an in-depth look at what the industry is thinking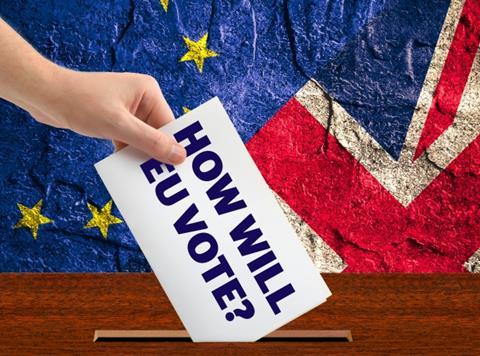 On 23 June the wait will finally be over. The UK population, bloated on a cocktail of scaremongering and guesswork, will be expected to decide the country's future political destiny in Europe. That's right, it's the EU referendum, and trying to find impartial advice on whether we should Brexit or not can feel like looking for the proverbial needle in the haystack. This might be why so many c-store retailers, according to an exclusive HIM Research & Consulting poll commissioned by C-Store, are still undecided on their voting intentions.

C-Store can't provide the missing information to swing your decision either way. But we can offer the perspective of your fellow retailers and the wider food and drinks industry, all against an impartial backdrop.

So to recap: the government officially wishes to remain in the EU, but a number of prominent Conservatives, such as Michael Gove and Boris Johnson, want out. The referendum result is expected to define the future of the Prime Minister and Conservative Party, as well as the country.

Recent YouGov/Times polling of the wider public shows both sides are neck and neck, while more than 20% are undecided. The same poll reveals that Remain supporters are more dominant in London (49% vs 27%) and Scotland (56% vs 24%), while Leave voters are more likely to live in the South (41% vs 37%), Wales (44% vs 37%), and the North (40% vs 37%). There is also a correlation between age and voting intentions, with 65% of 18- to 24-year-olds intending to vote Remain while 57% of respondents aged 65+ intend to vote Leave.

But here we look at the thoughts of c-store retailers and how the debate relates to them. In addition, two prominent MPs will argue their case in language directed at you.
How will you vote in the EU referendum on 23 June?
I won't vote: 2%
Not sure: 36%
To leave the EU: 37%
To sat in the EU: 25%

Our poll of 100 symbol and unaffiliated (Indie) retailers reveals that Brexit is the most popular position, at 37%, with 25% intending to vote Remain. Significantly, however, 36% of respondents are still unsure how to vote, proving how torn retailers are on the issue. And with 98% of respondents stating they intend to vote on the day, everything is still to play for.
My business will be better off if the UK remains in the EU
Agree: 26%
Strongly agree: 1%
Neutral: 45%
Disagree: 25%
Strongly disagree: 3%

Respondents are evenly split on whether their businesses would be better off if the UK remains in the UK, with 27% either agreeing or strongly agreeing, against 28% who envisage more professional prosperity under Brexit. Nearly half (45%) don't think the outcome will make any difference.
Vote Leave: David Knight, who owns two Budgens stores in West Sussex, will be voting for Brexit on 23 June.
Vote Remain: Arjan Mehr, owner of a Londis store in Bracknell, Berkshire, wants the UK to stay in the EU.
Undecided: Scott Graham, of McLeish Inverurie in Aberdeenshire will be making his decision on the day.
David: "The ability for the UK to negotiate and be responsible for its own trade agreements could be hugely beneficial. Given our freedom back to make new trade agreements around the world, and to be able to trade with countries which we currently do not due to their inability to negotiate trade deals with the EU, could see significant economic growth potential, boosting consumer spending and confidence. We potentially are going to be the fourth biggest global economy so the potential for global trade could be stronger outside the EU than it is inside."

Arjan: "Let's look at the Brexit campaigners' suggestion that we can take control of our destiny by negotiating our own trading agreement. I find that a rather disingenuous point as world trade is now global and only operates in big trading blocks. Politically, the British government has little power to dictate terms on its own, contrary to the Brexit lobby's narrative. We have seen how big companies can move jobs with ease, leaving the government as mere bystanders in the matter."

Scott: "I would question whether there should be a referendum; the issue is too complicated to leave to the public as we don't know all the facts. A lot of suppliers are saying their heads want to stay but their hearts want to leave, and that's how I feel. It's similar to the Scottish independence referendum when everyone's hearts wanted to leave but they voted with their heads because there were too many unanswered questions."
Shoppers will have more money in their pockets if the UK remains in the EU
Agree: 34%

Strongly agree: 0%

Netural: 41%

Disagree: 24%

Strongly disagree: 1%
Respondents are more likely to vote for Brexit even though a higher proportion believe a vote to Leave would hit consumers' pockets, with 34% saying shoppers will have more money in their pockets in the EU, against 25% who think otherwise.
David: "The true success of my business is always going to be linked to the prosperity of the economy. In order for us to do well we need a vibrant, strong economy, with our consumers feeling confident. The banking crisis exposed the Eurozone's frailties and the whole project as a whole."

Arjan: "Agricultural and service workers are in the main from Europe who can work here productively. These people will no longer qualify to work here. Let's be blunt about it: we all know who works in the service sector and the idea that our own population will take over picking strawberries is fanciful. On the question of our financial net contribution to Brussels: nearly half the money flows back into our economy, a point conveniently omitted by many of the Brexiters."

Scott: "I need to find out more about the long-term gains of leaving the EU, so I'll probably decide which way to vote on the day itself. If I wasn't a small business owner then I would vote to leave - as an individual it wouldn't impact me in the same way - but I need to look at the practical impact on my business."

Small businesses will be subject to fewer regulations if the UK leaves the EU
Agree: 34%
Strongly agree: 0%
Neutral: 44%
Disagree: 19%
Strongly disagree: 3%
The response is more clear cut regarding the impact of Brexit on red tape; 34% believe there would be less regulation in a post-EU UK, against 22% who think otherwise. But many respondents aren't convinced either way, with 44% neither agreeing nor disagreeing.
David: "Thanks to the EU the cost of doing 'regular' business has gone up significantly. The health and safety and employment regulations are a minefield. If we were to exit the EU I would expect to see a significant reduction in legislation. Being able to opt out of the Human Rights Act alone could allow us as business owners to take back control, reducing risks and costs in our businesses."
Arjan: "The myth that most of our laws are made in Brussels is untrue. I'd like to hear one ruling that has harmed a c-store retailer's business significantly. Don't talk about tobacco as the whole world is now moving towards a lockdown. Exemption on minimum wage, business rates relief on parity with online business, health and safety exemption to small businesses, town centre regeneration, affordable housing so that low- paid workers can work in our sector - did we get any of this? No. What have these got to do with Europe may I ask?
Scott: "Regarding Brexit, my heart says we can get away from the silly laws from Europe, such as some of the employment legislation. Europe gets involved when it's not required to. But there's so much uncertainty, and I think the cost of goods would go up in a Brexit. We've already had to put up costs enough with the living wage."
The view from the food and drinks industry
The wider food and drinks industry will vote to leave the EU - 39% against 37% - despite concerns over the negative impact on business, according to a survey of 561 people by C-Store publisher William Reed.
The survey found that 37% of respondents said Brexit would have a negative impact on their business, against 30% who said business would benefit. Furthermore, 40% said Brexit would inflate food and drinks prices, while only 8% said prices would decline.
In terms of impact on staffing, 64% said their labour force would be unaffected by Brexit, while 26% said they would face a moderate or serious recruitment crisis. Just 5% said they would benefit from their ability to recruit more British workers.
Brexit would result in a decline in regulation, say 50% of respondents, while 23% said red tape would be unaffected.
The survey included FMCG manufacturers, pub, bar and restaurant operators, bakers, butchers and c-store retailers (10% of the vote).
VOTE TO STAY
Chuka Umunna, Labour MP for Streatham and former shadow small business minister
"Think about the prices you're selling at. The fact is 28% of produce on high-street shelves comes from the EU. If we left the single market and sourced those goods from the same countries under World Trade Organisation rules as suggested by the Leave campaign, it would mean higher tariffs, which would mean higher prices that you're going to charge your customers.
"If I ran a local shop on Streatham High Street, why would I want to come out of the EU if it meant I charged higher prices to my customers?
"In the short term we know there's going to be an economic shock. Forecasters are clear there's going to be a shock, and just remember how it felt when people stopped coming through your door between 2008 and 2009. How long that shock's going to go on for we don't know.
"If you look at regulation, the biggest bugbear c-stores have is the increase in the National Minimum Wage. That was done wholly on the instigation of a domestic government, and nothing to do with the European Union. The ACS' campaign against plain packaging was entirely focused on the domestic government, not the EU."
VOTE TO LEAVE
Priti Patel, Conservative MP for Witham and employment minister
"Small and medium-sized businesses are hit hard by EU laws and regulations. Although only 6% of businesses export to the EU, 100% of firms have to abide by their laws which have added more than £33bn in costs to the UK economy.
"This adds costs to businesses, prevents jobs being created, and increases prices. Small businesses across the country have no confidence in the EU and feel the EU does nothing positive for them. Businesses also pay the price for the EU through their taxes. Each week we hand over £350m to the EU, but most businesses would rather see this money spent in this country on our own priorities such as investment in infrastructure to support business growth.
"While we remain in the European Union, we are at constant risk of bureaucrats and judges passing new rules that impact on our businesses. Rules covering self-employed drivers, waste and labelling have hurt businesses, and we can only safeguard our economic prosperity and take back control of our country by voting to leave the EU on 23 June.
"Voting to leave the EU is a vote for security, safety and prosperity."