Shopping app Jisp has gone live this week across six independent retail stores as part of its partnership with the Federation of Independent Retailers (NFRN).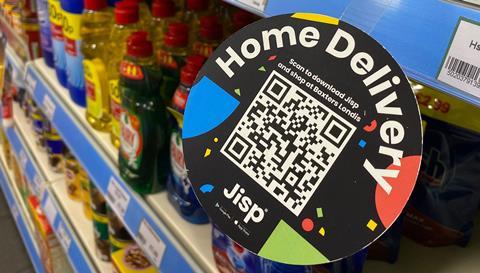 Using NFC technology and barcode scanning, the Jisp app allows customers can browse their nearest stores in the app, add products to their basket, pay securely through their smartphone and choose to collect the order themselves or select same day or next day home delivery, as well as receiving instant product information, including allergens and reviews.
For restaurants, bars and cafés Jisp also provides table ordering with instant payment, takeaway and home delivery features.
The six stores offering the Jisp services are Todmorden News in Todmorden, Calderdale, West Yorkshire; Taylor Todays in Southcoates, Hull, East Yorkshire; Baxters Londis in Crookes, Sheffield, South Yorkshire; Hightown Convenience Store in Congleton, Cheshire; Brampton Post Office in Brampton, Cumbria; and Mosci's Convenience in Horden, Durham.
Stuart Reddish, NFRN National President and owner of Baxters Londis, said: "The way customers shop is rapidly changing, especially since the Covid-19 lockdown and we, as independent retailers, cannot afford to stand still when it comes to enhancing the shopping experience and building loyalty.
"I am really excited to be trialling the app in my store and look forward to engaging with my customers even further, gaining a better understanding of their wants and needs, and having a simpler way of notifying them of special discounts and deals, all of which should further drive loyalty and sales."
In-store pos material is highlighting the new service to shoppers. To celebrate the launch, each store is holding a virtual quiz through the Jisp app on Sunday 21 and 28 June. Customers will compete for a chance to win a £25 shopping voucher from their local store as well as £75 donated to the winner's chosen charity.
Julian Fisher, Jisp founder and ceo said: "It's a very proud moment for Jisp to support independent retailers with a host of shopping and contact-free payment solutions that compete and, in some cases, beat the services offered by many supermarkets and online giants. We look forward to further building our brilliant partnership with the Federation."