Independent retailers have hailed their local communities for assisting them in their efforts to meet the needs of elderly and vulnerable people.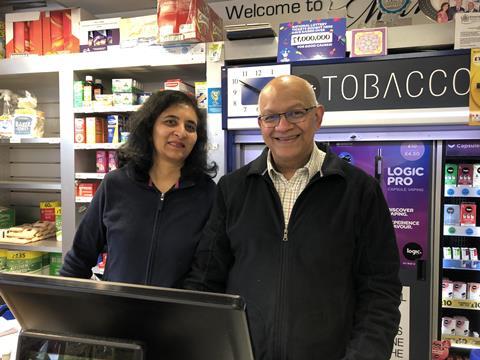 Zahid Iqbal, owner of Day-Today Drylaw in North Edinburgh, has handed out more than 1,000 free coronavirus 'survival packs' - consisting of toilet roll, antibacterial handwash, pocket tissues and paracetamol - to elderly and vulnerable customers.
He is now planning to extend the initiative to food bags including a pack of pasta, pack of cheesy pasta, one tin of soup or beans, as well as a pack of toilet roll.
Zahid said no-one in the community had taken advantage of his generosity, with many customers eligible for the free bags insisting that they should be reserved for others.
Furthermore, the store has seen a "big increase" in footfall as local residents want to help support the business as much as possible.
"People are also coming in and giving us flowers and chocolates, the community have been amazing. It's costing us money, but that's not the point. The extra sales are helping, but over time it'll benefit us. I believe that if you do good, people will be good to you," he told C-Store. "All retailers can do something like this, even on a small scale."
Elsewhere, independent retailers Manny and Minal Patel have extended their home delivery service with the help of local volunteers.
More than 10 local people have signed up to help their store, in Long Ditton, Surrey, deliver groceries free of charge to the elderly and infirm and those who are self-isolating. With the help of its new team of volunteer delivery people the service is also being extended to neighbouring villages.
"People in the nearby town of Surbiton tell us the supermarkets there are running almost empty, there was a huge queue outside Boots and Waitrose this morning long before either store opened. Local stores such as ours still have a good range and we are getting supplies all the time although managing cashflow is becoming tricky," Manny said.
Manny's store has also set up a number of new standing order deliveries in recent days, delivering essential items such as bread milk and eggs to local houses on a weekly basis.
It is also taking in special orders and making deliveries to a local nursing home.
"Situations like this really do show both sides of human nature," Manny added, "We've been inundated with offers of help and good-will by some people but at the same time you get others who have no guilt about coming in and buying up all the rice on the shelf and leaving nothing for anyone else."
He added that more guidance on what retailers should and shouldn't do as retailers would be helpful.
"We're taking lots of additional measures such as wiping down the surfaces, washing hands for longer and more often and not shaking hands with customers but it would be useful to know what else we should be doing. As retailers we're on the front line of this thing, we can't work from home and hide away like others can and it is a worry," he said.