Spar retailer Olly Andrews and distributor Appleby Westward are enjoying the success of a flagship forecourt development in Maiden Newton, Dorset.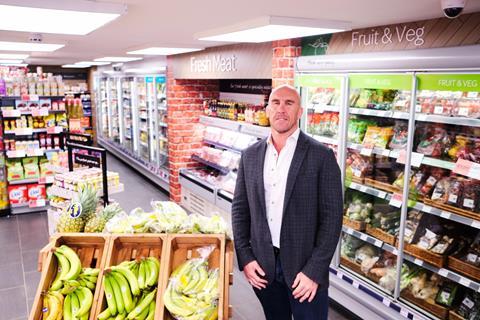 The Andrews family has run the Maiden Newton Service Station business for over 40 years, and as a Spar shop for over 20 years, with Olly taking over the business from his mother Melodie eight years ago. The extensive revamp is the outcome of a £200,000 co-investment project between the family and Appleby Westward.
The investment programme began last autumn with a £250,000 expansion of the garage forecourt involving the installation of new fuel tanks, pumps, pipework and the introduction of supreme grades of diesel and unleaded Texaco petrol.
This spring, the £200,000 Spar store expansion got underway, increasing the size of the store to 2,425sq ft and introducing a variety of new features including new fresh fruit and vegetable stands and a dedicated meat counter serving produce supplied by a local farmer. Also featured are a wider choice of chilled and frozen products including Cook frozen meals, and an extended, dedicated off licence section.
Outside the store, a wooden hut dedicated to the sale of fresh organic milk from a local farm has proved popular, set up with a self-serve contactless vending machine.
Extra staff have also been taken on to ramp up up home deliveries to customers in Maiden Newton and surrounding villages during lockdown.
Olly said: "Basically, we've safeguarded the whole site and future-proofed it for many years ahead.
"We reopened the new-look store just before the COVID-19 crisis and were already attracting new customers quicker than we thought.
"We have made the store more spacious by taking in part of an old workshop," added Olly. "It's wheelchair-friendly and represents the third major extension we have made in the last seven years, enhancing the full convenience offer we are able to provide to the local community."