With new legislation in effect from 1st October, retailers need to ensure they are preventing sales to under-18s and encouraging healthy play while selling National Lottery Games, says operator Camelot.
Extraordinary things happen when lots of people play a little
With over £4.8bn in retail sales last year and around 60% of UK adults who currently play, The National Lottery is a huge category and brand. With that comes the responsibility of ensuring that National Lottery products and games are sold in a responsible way.
National Lottery retailers are central to this mission, and organiser Camelot ensures support is on hand to prevent retailers from selling to customers under the age of 18 and that healthy play is a key focus when selling National Lottery games.
The age to play National Lottery products
Legislation came into effect on 1st October 2021, which means it is now against the law to sell National Lottery products to anyone under the age of 18 years old. This decision – made by the UK government and fully supported by Camelot – could not have been achieved without the support of National Lottery retailers, who were given just under six months to prepare for the change in law, following a change to National Lottery rules back in April of this year. Their co-operation has been vital to the success of the change in age to play The National Lottery.
This is most evident in the most recent results of Camelot's underage sales mystery shop programme, Operation 18. The programme, which has been in place for two decades, is a key component of Camelot's long-term commitment to preventing underage play, and is used to monitor the compliance of retailers as a result of the training and awareness that Camelot has in place to help prevent sales to those players.
Each year, Camelot conducts more than 11,600 mystery shopper visits to ensure that anyone underage cannot play National Lottery games in retail stores. Pass rates for the most recent set of visits have been extremely promising, which is good news in light of the recent change in law.
How can National Lottery retailers prevent underage play?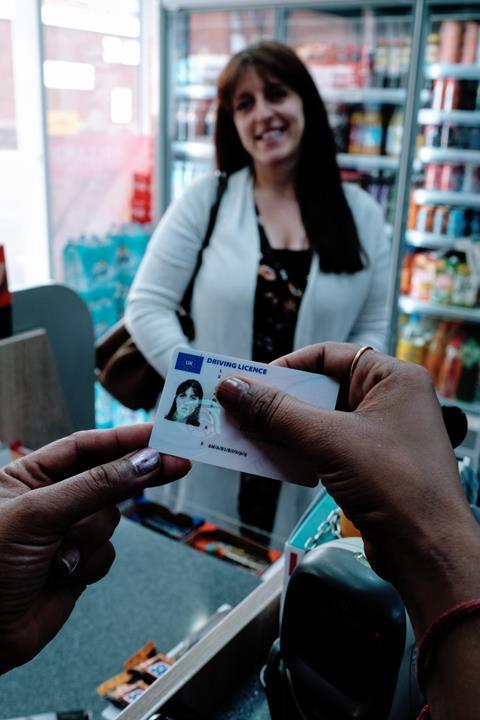 ● Ensure a 'No ID, No Sale' policy is followed by all staff members
● Remember the acceptable forms of identification:
– Passport
– Photo Driving Licence
– Military ID Card
– Or any other ID which has the PASS logo e.g. CitizenCard
– The ID can also be presented for verification using the Post Office EasyID app in Post Office branches
Remember: stores can receive up to three Operation 18 mystery shop visits if they fail to ask for identification. If they fail on all three visits, they are at risk of losing their National Lottery terminal.
The age to sell National Lottery products
Along with the change to the age to play The National Lottery, new legislation also came into effect on 1st October 2021 meaning anyone selling a National Lottery ticket or issuing a Fast Pay card must be 18 or over; unless:
● The sale or issue by a 16- or 17-year-old has been specifically approved by a responsible person over the age of 18 at the time of the sale/issue (assisted/supervised sale) or;
● The staff member (no younger than 16) has been 'pre-authorised' (in advance) to sell National Lottery tickets by an authorising person over the age of 18, and such authorisation is recorded in writing.
What is an 'approved sale'?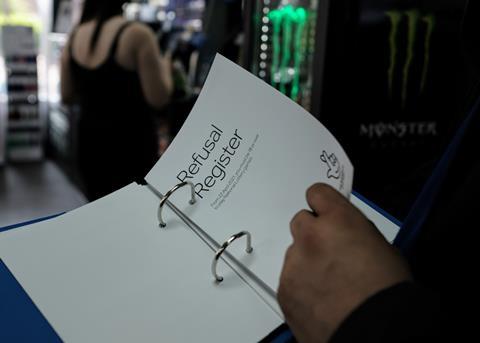 An approved sale, often referred to an 'assisted' or 'supervised sale', is when a staff member who is 18 or over supervises the sale of National Lottery products by a 16- or 17-year-old staff member. This works in the same way that retailers currently authorise the sale of alcohol by a 16- or 17-year-old staff member.
Retailers may choose to follow the pre-authorisation route, where a formal written record must be completed, retained and kept up to date for all staff aged 16 or 17. This record must then be countersigned by an authorising person at the store location, being the store manager. This provides full authorisation for that staff member to proceed to sell National Lottery products, providing the age verification procedures have been followed, and there does not have to be any further intervention during a sale transaction.
Did you know?
The age to pay out prizes on The National Lottery has also increased to 18 years and over following an amendment to The National Lottery Retailer Agreement at the end of September 2021. However, just like the age to sell National Lottery products, 16- and 17-year-olds can validate prizes if approval has been granted.
Driving healthy play in retail
Camelot wants lots of people playing a little, rather than a few playing a lot. It is important to look out for signs of unhealthy play when serving customers in-store.
Signs of unhealthy play:
● Purchasing tickets daily or several times a day
● Buying more tickets in the hope of recovering losses
● Increased spend over time
● Speaking about financial difficulties
In August 2021, Camelot launched a brand new healthy play mystery shop programme. It has been designed to ensure retailers know how and when to provide healthy play information to players who may need help with their play.
How can retailers support healthy play in-store?
● Ensure all staff are trained on spotting the signs of unhealthy play and feel confident in speaking to players
● Make sure all staff know how to print a hand-out using the 'Healthy Play' button on the terminal
What is the 'Healthy Play' button?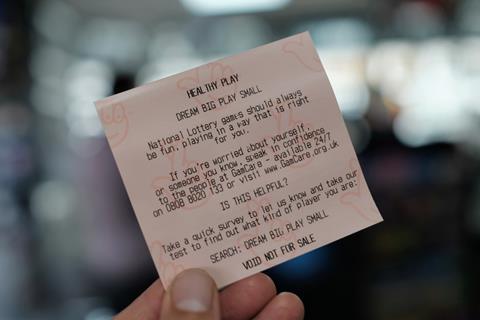 The 'Healthy Play' terminal button allows retailers to discreetly print GamCare's details on a pink terminal ticket to provide to players whom they think might be showing signs of unhealthy play. Take-up of this button since it launched in 2019 has been promising and retailer knowledge of this tool has also been strong during recent mystery shop visits.
For more information and support on all matters covered in this article, please visit www.tnlretailerhub.co.uk*.
*Eligible National Lottery retailers only. T&Cs apply.