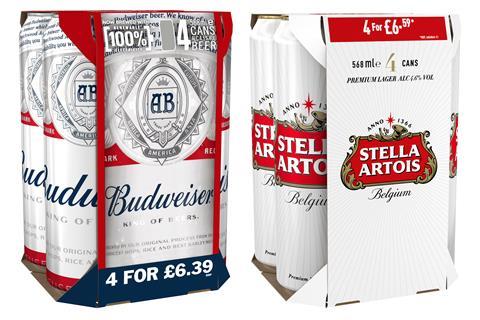 Consumers are at the heart of growth in the beer category. As lockdown eases, retailers can keep driving sales by offering price-marked packs (PMPs) to meet consumer demand, as Budweiser Brewing Group UK&I argues.
Alongside its new product launches and campaigns, the company is focused on advising convenience retailers about pack strategy and in-store optimisation. Consumer research and market analysis have indicated that PMPs are a huge opportunity for retailers1, whether consumers are continuing to drink beer at home or venturing out as lockdown restrictions ease.
As you might expect, the beer category across the off-trade saw unprecedented growth in 2020, with sales rising by 37.5% in the convenience channel2. A huge part of this success was due to increased drinking occasions at home, which are set to continuing growing even as lockdown restriction lift.
With consumers spending more time at home, treat purchases have risen. Alcohol is one area where consumers are splashing out, with 52% of shoppers saying they will pay extra for quality when buying alcoholic drinks to have at home.
PMPs are vital to maximising the sales opportunity presented by this spike in at-home occasions. Whether consumers are opting for core or premium products, the packs reassure them of value for money.
Consumer research shows the extent to which shoppers favour PMPs3. 81% of survey respondents think they are less confusing and more transparent than their non-priced counterparts, while 63% feel they are fairer.
The inclusion of prices on packs neither adds nor detracts from the consumer perception of a brand, which should alleviate concerns that it cheapens a premium product. While maintaining a product's reputation, the specific price point helps to promote trust between the consumer and retailer.
Budweiser Brewing Group UK&I can support convenience customers in stocking the best-known alcoholic drink brands that meet the range of customer price points within PMPs. Retailers know the company can cover the spectrum of consumer preference too, from core lagers such as Bud Light and Becks to premium options like Stella Artois and Budweiser.
By specifying the prices, consumers can make these treat purchases without feeling like they are being overcharged. This allows for premiumisation while maintaining the core lagers, sustaining value growth.
In line with a recent review, Budweiser Brewing Group UK&I has updated the pricing across its PMP range. Effective from April this year, these changes will help retailers boost their profit margins and capitalise on home occasions.
The changes have come because the company has listened and responded to the requirements of our customers, while ensuring sales are sustained. The assessment of the marketplace shows the opportunity for PMPs across different pack sizes to optimise growth – ultimately driving sales for convenience retailers.
Sources:
1-3 Bulbshare Consumer Research on price-marked packs, December 2020
2 Nielsen 52 weeks ending 26 December 2020