With many brands and retailers still behind the curve on the government's upcoming high fat, sugar and salt legislation, healthy snacks brand graze says c-stores should grasp this unrivalled opportunity to reset their offer around healthy goals.
The high fat, sugar and salt (HFSS) restrictions coming into force this October are set to not only change snacking but have been described as the biggest driver to health, well over and above the latest diet trend or a wish to fit into old jeans.
And with 55% of consumers wanting more healthy snacking options at the front of store, the legislation could prove a massive opportunity for brands and retailers to reset their offer around healthy goals.
Whether viewed as a challenge or opportunity, the HFSS legislation is clearly one with which convenience store retailers must get to grips with. According to a report by Lumina Intelligence, 44% of retailers and 54% of independent retailers had not heard of the legislation, which is a somewhat worrying statistic given the fact that compliance is now just half a year away.
In a bid to help clarify the process, in February the Association of Convenience Stores (ACS) issued guidelines for convenience retailers to help them navigate the legislation, including information on how to work out whether a store will be in scope of the regulations, which categories of product are affected and which promotions are restricted. And, as ACS chief executive James Lowman pointed out: "The introduction of HFSS regulations marks one of the biggest operational changes in the grocery retail sector in living memory, so it is absolutely crucial that retailers know what they will have to do ahead of October."
Yet there is still a lack of clarity in the convenience sector as the legislation exempts stores with a relevant floor space of under 2000 sq ft and those with fewer than 50 employees, leaving symbol and franchise chains unclear on where they stand.
Since then, however, and noting that the legislation comes at a cost of over £90m to the convenience sector alone, the ACS has written to the Prime Minister calling for an urgent review of the introduction of location and promotional restrictions on HFSS products, as the government still hasn't published official guidance on the regulations. "With the cost of living rising and wave after wave of food supply crisis hitting retailers over the last two years, this is not the time to introduce enormously disruptive, costly and unproven regulations," said Lowman.
Opportunity for healthy growth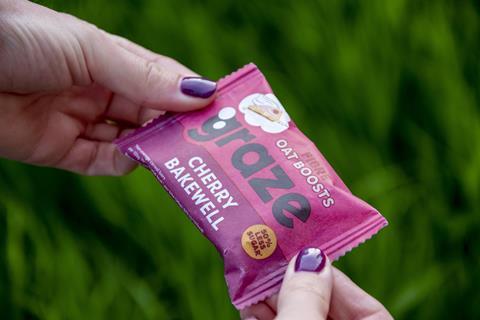 With all of this playing out, but no real sign from the government that there is any plan to delay the introduction of the legislation, which had already been pushed back from April this year, number 1 healthy snacking brand* graze is encouraging retailers of all sizes to grasp the nettle and realise that the HFSS regulations offer a real opportunity that can be managed without compromising commercial performance.
As graze points out, the industry needs to do reminded that HFSS has been put in place to encourage healthier eating habits and therefore should be viewed as a positive contribution to a healthier industry and says the question is how the industry and retailers can get shoppers to get excited by 'healthier' and buy into this as a preference to 'unhealthy'.
"HFSS is coming into place with the aim of encouraging healthier eating habits. For us, this has always been our mission and each and every one of our actions will be centred around the spirit of the legislation," says graze CEO Joanna Allen. "By embracing the HFSS legislation, we hope to reduce the obesity crisis and create exciting shopping experiences around healthier options.
"The industry needs to do more to embrace the legislation," says Allen. "Healthy doesn't have to come at a compromise on taste. You can make healthy delicious and exciting - something that consumers look forward to which has been graze's mission since its inception."
For graze, the HFSS legislation clearly complements the company's ethos and message of health credentials. Yet the snacks brand is not just talking the talk on the new regulations; the brand has undertaken a series of initiatives to prove how convenience retailers can successfully offer a healthy snacks selection that will not only continue to meet the impulse nature of the category, but also presents the opportunity to enhance a store's overall perception in the eyes of increasingly health-conscious consumers.
Capitalising on HFSS compliance
graze is helping retailers to navigate and capitalise on the transition as smoothly as possible, by introducing a "category-leading" HFSS data tool with an HFSS score for every product in three snacking categories – competitors', own-label and graze. Blended with sales data, it provides rapid revenue-driving insight across products, allowing retailers to make quick and easy decisions on ranging, space and displays, reveals Allen. "The tool went live earlier this year and sharing this with our retailers has been a breakthrough in the support we have been able to offer.
"We asked how we could work with store managers to find the best layout for smaller stores and give them the confidence in navigating that space to comply with the new legislation," explains Allen. "We can provide a view on HFSS data from a category perspective and layered with sales data, provide insight that allows store managers to make better ranging decisions."
Other initiatives in-store include trialling point-of-sale (POS) kits, shelf-ready packaging and off-shelf display artworks to permanently include clear messaging ion HFSS compliance. "This will give reassurance to store staff on where products can be placed," adds Allen.
"We understand the complexity of the transition and want to support retailers through it. We also want to step-change the sentiment around HFSS and inspire the industry to see this legislation as a true opportunity for commercial growth and advancing health together in the UK."
graze products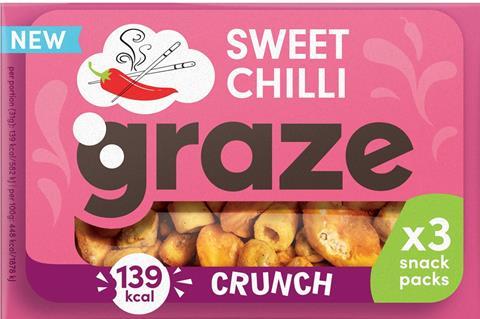 While the HFSS legislation is often feared to take away the tasty indulgent aspect of snacking, graze says it is challenging the norms and its own imagination to create tasty recipes for all of its products.
The company is in the process of improving its recipes and has already undertaken over 100 recipe iterations and 30 kitchen trials to ensure it is able to offer "great-tasting snacks that are also HFSS-compliant".
"Eight out of 11 of our snack bar products in grocery will be non-HFSS compliant by October, with the remaining three by March 2023," says Allen. "All of our crunch and nuts range will also be fully compliant by September 2022, which means 85% of our entire retail range will be non-HFSS complaint or exempt by October 2022.
"We see brands with a genuine health agenda as vital to future-proof categories by offering healthy and delicious shopping experiences.
For graze, the future of our innovation pipeline will be about staying true to our health promise and continuing the momentum on genuinely healthy and tasty products that are compliant with the new regulations."
To find out more about how graze can help retailers with the transition to HFSS compliance, visit: https://www.graze.com/uk/.

Graze is a United Kingdom-based snack company which is owned by Unilever. Graze offers over 200 snack combinations through snack subscription boxes, an online shop and retailers. The company distributes thousands of snack boxes per day across the UK.