Prestbury Village Stores owner Jerry Tweney, in Cheltenham, Gloucestershire, has had a good year so far as he keeps customers happy with new fresh lines and an expanded food-to-go range.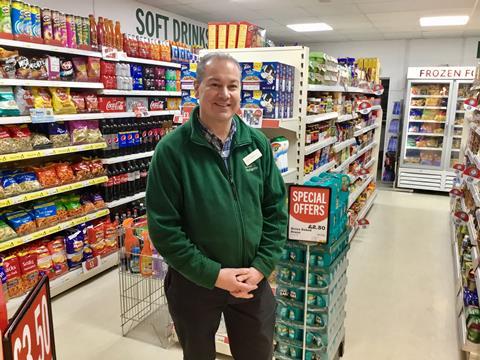 He says: "The last few months have been really good for us and overall the weather has held up pretty well. We usually find everything evens itself out over the summer.
"We had a really good season last year, with the World Cup and all the sun, and footfall has gradually been increasing ever since we opened around 20 months ago.
"There has been a lot going on since then and we have recently started working with The Outdoor Pig Company to bring their range into the store. The pies and meats they offer are local to us so it adds something a bit extra to our range.
"Our customers aren't as concerned about price as some might be in other areas so offering a local, fresh and clean and tidy shopping experience is something that is really important to us.
"We've also done a lot of work with our food-to-go, creating a new bay for soft drinks and the Budgens meal deal. We had to take out some of our milk and dairy range to make space for the new fixture but this area was quite cramped before so it made sense for us to have a bit of a change around.
"We also see so many more passing builders and workers, that pop into out store on the way to work, so it is really important that we have a good range to appeal to them. Food-to-go is something we have always done, with our coffee and seating area, but it feels good to do it properly with a bigger display."
"Another area that has been really successful for us is our local craft ales. We now have eight different varieties. The cans, in particular, are a real growing market despite some people calling them old fashioned a few years ago."
Star performers: "We work with a local farmer to bring fresh asparagus into the store which is always a good seller and we are preparing to bring fresh fruits like strawberries and other berries into our range for the summer."
Successful NPD
"The new Coca-Cola Energy drink is something that we have just brought into the store and it has gone very well. It is currently priced at £1 to encourage people to try it during the first couple of weeks since launch."
Coca-Cola Energy, the first energy drink to be released under the Coca-Cola brand, was first introduced to UK retailers at the end of last month.
The new drink features caffeine from natural sources, guarana extracts, B vitamins and no taurine. It is available in 250ml cans and in two variants: regular sugar and no sugar.
The launch of the new product is being supported by an integrated marketing campaign.