Walkers has unveiled its 'best ever' cheese & onion flavour with the roll out of the biggest marketing campaign in the brand's history.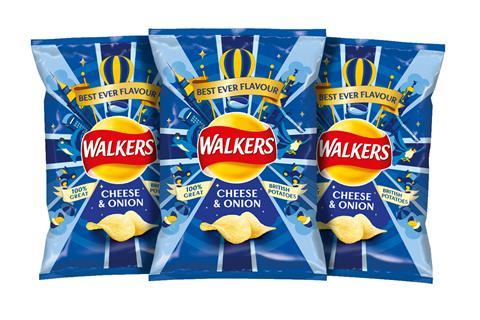 The campaign, featuring girl band the Spice Girls, includes a 90-second advert showing how some people will do almost anything to avoid sharing their favourite Walkers crisps.
Rolling out across TV, cinema, digital and social platforms, the activity will run throughout June and July promoting the updated cheese & onion bag and is expected to reach 98% of the UK.
The flavour will also be supported with new packaging, which includes a gold flash on the front of pack and new point of sale materials for retailers.
"With our first campaign under our new positioning, together with the Spice Girls and best ever flavour, we're building the perfect platform to drive sales and talk-ability," explained Fernando Kahane, marketing director for Walkers at PepsiCo.
"The campaign is set to help us reconnect with modern Britain by playing on awkward British moments – like not sharing your delicious Walkers crisps with your icons. With almost the entire UK population being exposed to the new campaign, it's really important to ensure that Walkers is clearly visible in your store as it will be front of mind for your customers as they seek out our best ever flavour."
Available across the convenience channel from this month, the new 'best ever' flavour will be available in all formats, including single-serve (rrp 75p) and 6x25g multi-packs (rrp £1.70).