To mark its 70th Anniversary, Tims Dairy is launching a new premium collection of Greek style yogurts.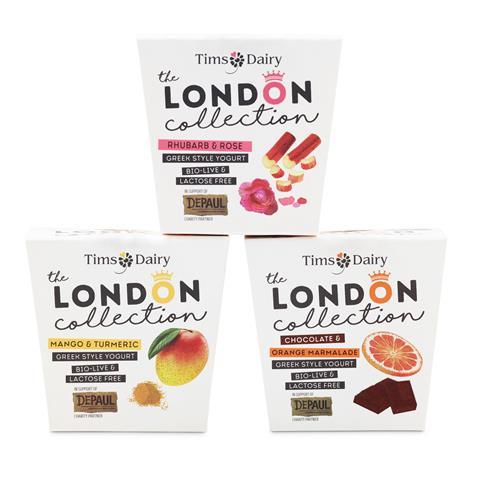 Rolling out to c-stores now with an rrp of £1, the London Collection is sold in 150g pots and comes in three flavours: Mango & Turmeric, Rhubarb & Rose and Chocolate & Orange Marmalade.
All varinats are made with natural ingredients and fresh British milk and cream. The London-themed products are also bio-live, lactose free and each pot is made with 100% recyclable materials.
Commenting on the creation of the range, Chris Timotheou, managing director and co-founder of Tims Dairy, said: "We operate in a highly competitive, cluttered dairy fixture and creating differentiation is vital to a brand's long term success.
"Our research tells us that consumers want a healthier indulgent fix, so it's important that our flavours are decadent and delicious. The rise in popularity and interest in spice and middle-eastern flavours was also important, especially when we looked at the flavours traditionally imported into the London docks when Tims Dairy was first founded by my uncle, who was joined by my father, seventy years ago."
Tims Dairy has also launched a partnership with youth homelessness charity Depaul UK to coincide with its birthday celebrations.
Timotheou added: "Being part of London's community is very important to Tims Dairy. We believe it's important to help build and nurture the areas in which we live and help those who need support or find themselves in crisis. We look forward to working closely with our charity partner Depaul UK to help young people affected by homelessness in London to have a safe place to stay."