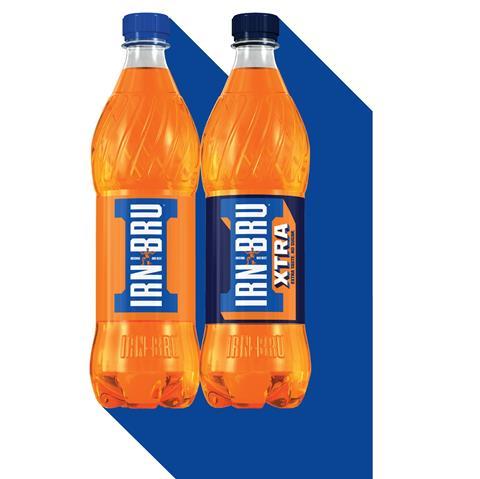 Irn-Bru is at the centre of a £6m campaign to differentiate the flavoured carbonate brand from its competitors. Three new adverts will run across a number of media channels during March & April, including TV, digital and social, reaching 90% of 16–34-year-olds in Scotland and the North of England.
"This year's campaign continues the great taste debate with three new, thoroughly entertaining broadcast adverts to help drive overall category sales during the key spring and summer period," says Adrian Troy, marketing director at Barr Soft Drinks.
During the four weeks of last year's campaign, Irn-Bru delivered the fastest growth of all flavoured carbonate brands (IRI Marketplace, Value Sales, 4 wks to 21.08.21, Total Coverage), claims the firm. Retailers can use vibrant, eye-catching point of sale material to create in-store/in-depot theatre and maximise incremental sales during this year's campaign.
Barr Soft Drinks is also advising retailers about the importance of offering shoppers both regular and zero sugar Xtra variants of Irn-Bru prominently to attract shoppers to the fixture. The latter has grown 4.5 times faster than total flavoured carbonates (IRI Marketplace, Value Sales, MAT to 22.01.22, Total Coverage), according to Barr. The firm claims that Irn-Bru is the UK's no.1 flavoured carbonate brand within convenience (IRI Marketplace, Value Sales, Single Flavour OFCs, MAT to 22.01.22, GB Convenience).