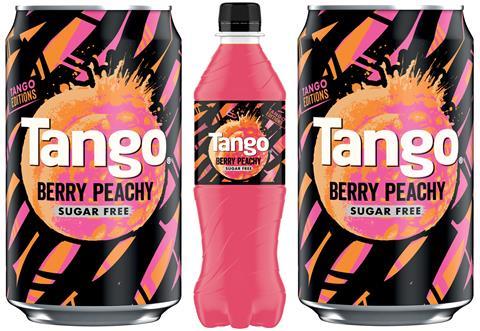 Berry Peachy is the first flavour in Britvic's new sugar free rotational flavour range, Tango Editions.
The new flavour is available in 330ml cans (rrp 69p); 500ml bottles in plain (rrp £1.69) and £1.09 pricemarked packs; 2L bottles (rrp £2.89); and 6-can (rrp £3.99), 8-can (rrp £4.79) and 24-can (rrp £11.79) multipacks.
Phil Sanders, out-of-home commercial director at Britvic, says: "We know that convenience shoppers are constantly looking for something new to try, particularly in the fruit carbs category. This is exactly why we have developed the Tango Editions range – to disrupt consumers through the introduction of a rotational flavour series which combines bold tastes, bold liquids and bold pack designs.
"Introducing no sugar products without compromising on taste is exactly what shoppers have come to expect, with nine out of 10 saying that flavour and taste are important considerations when choosing a soft drink, and seven out of 10 saying that sugar content or lack thereof is important [Independent research commissioned by Britvic, Shopper attitudes to on-the-go shopping in convenience, 2,000 shoppers surveyed, July 2021].
"Sugar free carbonates are the most sought out option (54%) when it comes to on-the-go soft drinks [ibid], so the single 330ml cans and 500ml bottles will be ideal options for driving this occasion."
Tango as a total brand is worth over £52m RSV after growing 13.1% vs last year (NielsenIQ RMS, Total Coverage, Value Sales, Britvic Defined, MAT to 22.01.22), and its sugar free flavours represent a third of the Tango brand, claims Britvic.
Berry Peachy is set to follow the success of Dark Berry, which has added £8m to the category already since its launch in March 2021 (ibid).
The new flavour will be supported through digital and social communications, and in-store activation across retailers in out-of-home, convenience and wholesale.