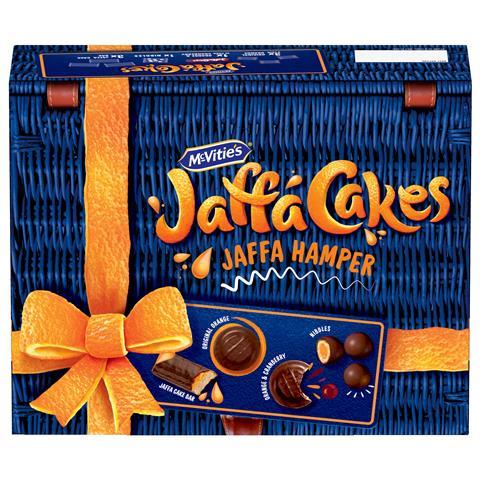 Pladis has announced its 2021 Christmas offering for McVitie's and Flipz.
Joining the McVitie's Seasonal Milk Chocolate Digestives range is the new McVitie's Mince Pie flavour Milk Chocolate Digestives (243g, RSP: £1.59). McVitie's Gingerbread flavour Milk Chocolate Digestives will also be making a return for Christmas 2021.
McVitie's Jaffa Cakes Jaffa Hamper (rsp: £4) is also available, combining bestselling Jaffa Cakes classics with seasonal family favourites. It includes a pouch of McVitie's Jaffa Cakes Nibbles, 3 x McVitie's Jaffa Cakes Cake Bars, 3 x McVitie's Jaffa Cakes Original 3-packs and 1 x McVitie's Jaffa Cakes Orange & Cranberry 10-pack. McVitie's Milk Chocolate Digestives Gingerbread Slices will also be available in a pack of five individually-wrapped bars (5 x 24.5g) at an RRP of £1.
Flipz Gingerbread will be available in a 150g sharing pack (rsp: £1.50). Comprising the brand's signature salty pretzel coated in a rich and warm gingerbread glaze, Flipz Gingerbread offers consumers the familiar 'swavoury' flavour combination they know and love, with a touch of seasonal spice. Pladis is giving Flipz fans the gift of gaming this season – with a Flipz Big Game Dropz on-pack promotion, offering shoppers the chance to win a PlayStation 5 every day, along with additional prizes for runners-up.
Marketing director -chocolate, cake, seasonal at Pladis UK&I Jonathan Bull said: "This year's seasonal snacking sales will be bigger than ever, and is set to exceed last year's £161 million incremental opportunity. 2020 gave us a Christmas like no other, as seasonal celebrations were dampened by the pandemic, with only limited opportunities to reunite with wider circles of friends and family.
"Because of this, we're anticipating Christmas 2021 to be big, as consumers make up for the time missed due to last year's restrictions. That's why it's more important than ever that retailers ensure they get their seasonal biscuits fixture right."