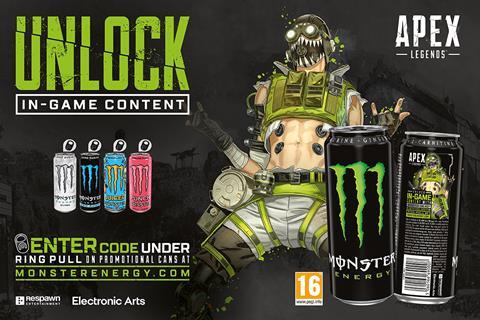 Coca-Cola Europacific Partners (CCEP) has teamed up with Apex Legends to develop an on-pack promotion across Monster's core, Monster Juiced and Monster Ultra ranges.
Since its launch in 2019, Apex Legends has taken the gaming world by storm with more than 70m global players. Running until the end of the year, unique codes can be found under the ring-pulls of cans (and cans within 4 x multi-packs) of Monster Original, Monster Absolutely Zero, Monster Ultra White, Monster Juiced Mango Loco, Monster Juiced Pipeline Punch and refreshed Monster Assault.
Consumers have until the 31st of March 2022 to enter their codes online, which will then be uploaded in their EA account – giving them points towards exclusive Battle Pass prizes and in-game content. Every can purchased earns points towards exclusive prizes, the more points earned, the more prizes that can be won.
Promotional pack designs feature two of the game's biggest legends to drive standout on-shelf, and to help wholesalers and retailers create even more theatre in-store/outlet, high-impact POS materials are available from My.CCEP.com from the middle of October. Monster will also leverage its international social media following and run several high profile media partnerships to maximise awareness of the Apex Legends partnership, throughout the promotional period and beyond.
This latest promotion will give Monster a boost at a time when CCEP claims the brand is already on a record-breaking trajectory. As the no.1 deliverer of value growth in energy drinks – adding nearly £98m of value in the past year alone – Monster is worth more than £374m and has secured its highest-ever segment share (Nielsen MAT Val Total GB WE 19.06.21).
CCEP claims that the Monster Ultra range is the no. 1 in the zero sugar energy drinks segment, led by Monster Ultra White, the no. 1 zero sugar energy drink in GB (ibid). Monster Ultra and Monster Juiced are both in 40% growth – with the Pipeline Punch and Mango Loco variants among the biggest drivers of growth in the Monster portfolio (ibid).
Martin Attock, vice president of commercial development at CCEP said: "Gaming continues to be a huge and fast-growing part of the global entertainment industry – in which Monster has been a major player for nearly two decades. We're always looking to reward our loyal Monster fans with unmissable experiences and believe our partnership with Apex Legends will do just that – as well as helping to recruit new shoppers from the wider Apex fanbase.
"We ran a hugely successful gaming promotion this time last year, and we're confident of the same again. That's why we're encouraging retailers to get behind us and take full advantage as we bring together these two iconic brands."