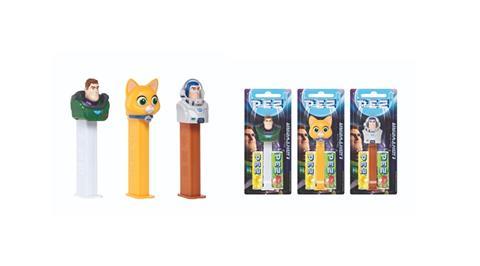 World of Sweets has added a new Buzz Lightyear branded PEZ ahead of the launch of the new Lightyear movie.
The dispenser has three character options - two are of Buzz Lightyear and the third is Sox, a robotic cat and Buzz's personal companion.
Each pack contains one dispenser and individually wrapped packs of Pez refill sweets, with an rrp of £1.75.
The brand has also launched PEZ Pezimals. These come in three collectible formats - a giraffe, monkey and elephant with each pack including one dispenser and two wrapped tubes of PEZ refill sweets. RRP is £1.75 per unit.
Chris Smith, marketing communications manager at World of Sweets, said: "PEZ products are popular among consumers young and old. They are a fun, novelty collectible item which kids love playing with and adults love to collect.
"With the launch of the Lightyear movie, this is the ideal time for retailers to stock and display these items in a prominent position in the store for all Toy Story and confectionery fans."