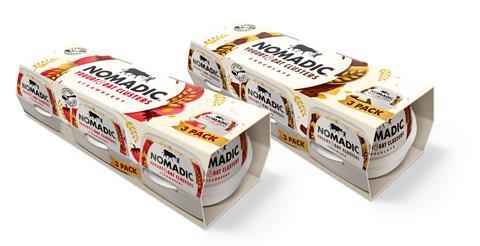 Nomadic Dairy has launched its first multipack format, with its Yogurt and Oat Cluster Strawberry and Chocolate flavours going into three-packs.
The new pack size aims to tap into the increase in less frequent, higher value shopping as well as the growth of at-home snacking. The brand says that, as an unconventional 3-pack, they're the ideal size for Nomadic's core audiences - the growing number of single occupancy homes and smaller family units It is hoped that the launch will give those consumers a pack size that better works for them, rather than the more common large unit (6, 8 and 12) yogurt multipacks.
With an RRP of £4.00, the multipacks have been listed by SPAR nationally from 1 October.
Head of marketing and innovation at Nomadic Dairy Tom Price said: "Our three-packs are a great solution for smaller households who don't want to be forced into buying larger formats - with the risk of lots of wasted yogurt. In contrast, for this under-served group, a pack of three is a perfect weekly solution. They're our first take-home format - perfect for these changed times - and tap directly into the rapid growth in home-snacking occasions."