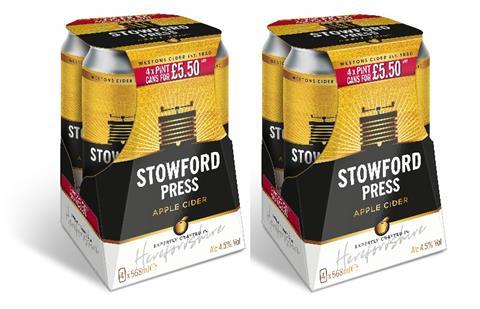 Weston's Cider is expanding its Stowford Press brand with the introduction of a new price-marked four pack of Stowford pint cans.
It is hoped the new format will cater to the demand for serves at home and comes after the 11.3% off trade growth for Stowford Press.
"It's no secret that, as a nation, we love to sip on a pint in our favourite pub. This is reflected in the performance of Stowford Press, which is currently the third largest draught apple cider brand in the on-trade," says Holly Chadwick, Brand Manager – Henry Westons and Stowford Press at Westons Cider.
"However, in the wake of the pandemic, we've seen an increasing number of Brits try their hand at recreating the pub and bar experience at home. As a result, retail sales of Stowford Press have soared and it's clear there's an opportunity to drive this further with the launch of our new pint can.
"In fact, pint cans currently overtrade in the convenience channel – with a 7.4% share of cans value compared to 3.8% in total market. This, alongside the fact that PMPs represent three quarters of sales in the convenience channel, only serves to reinforce our confidence that this format will help our retail customers drive higher volume sales."
Stowford Press Apple pint can (4.5% ABV) will be available initially in a price-marked pack of four 568ml cans across wholesale and convenience from mid-November (RRP: £5.50).