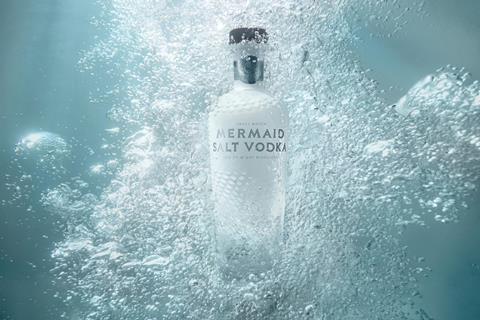 The Isle of Wight Distillery has launched a new look for Mermaid Salt Vodka.
Bottled in a white version of the design used for its gin range, the 40% vodka is infused post-distillation with locally sourced sea salt sourced from local supplier 'Wight Salt' and is harvested from water collected in the flood tide off the island's southern coast.
Co-founder of the Isle of Wight Distillery Xavier Baker said: "This island is rich in amazing ingredients which we love to use - whether it's the rock samphire and Boadicea hops in our signature gin, or the addition of local strawberries to Mermaid Pink. This, however, was the first time we ventured into the surrounding seas for an ingredient. Perfect on its own over ice or with a mixer, it also really layers on a unique savoury element for cocktails that you just can't get with other vodkas."
As with the distillery's gins, the 70cl bottle (rrp £40) is plastic-free, with an all-natural cork and wooden top, with a plant-based, biodegradable seal.