The confectioner has unveiled a range of seasonal launches.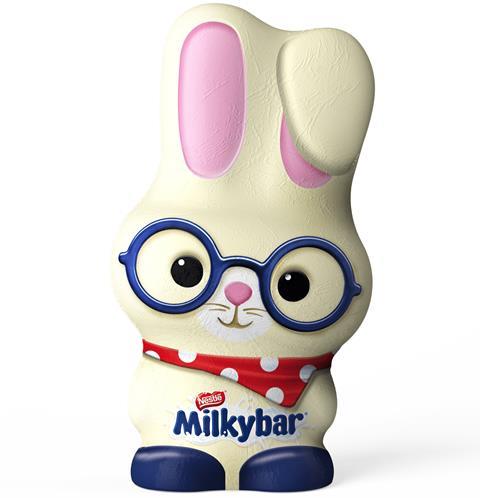 Milkybar Bunny is the latest seasonal offer from the no. 1 white chocolate brand (IRI Data 52 w/e 5th Sep 2020). Available in three sizes: 17g (rrp 65p), 44g (rrp £1.49) and 88g (rrp £2.49), the foil-wrapped bunny is expected to appeal to white chocolate lovers who spent £150m on the stuff last year, according to Nestlé.
Another new addition is KitKat Mini Eggs (rrp £1). Each foil-wrapped egg comprises a milk chocolate shell with a chocolate centre and wafer pieces.
KitKat Bunny is also bouncing back for Easter 2021. Launched earlier this year, the KitKat Bunny became the No.2 impulse novelty on the market (IRI Data to 11.04.20, performance YTD), generating sales of £3.1m across a range of formats (ibid).
The Smarties Bunnies range and Aero Milk Chocolate Mini Eggs, which both launched last Easter, are returning for 2021 along with Smarties Mini Eggs.
When it comes to shell eggs, Nestlé recommends that convenience retailers stock the Milkybar small egg, as well as medium and large eggs from KitKat Chunky and Smarties. The firm is also launching several bigger eggs:
Smarties Buttons have achieved over £12m in sales since launch (Total Market IRI Extended Snack + KWP Discounters to 10.10.20) and Nestlé is capitalising on this with a new Smarties Buttons Giant Egg (rrp £7.49), which comes complete with a pouch of the sweets.
The second new giant egg is the Aero Peppermint Mini Eggs Giant Egg (rrp £7.49) which comes with a pouch of the brand's mini eggs. The actual chocolate egg is peppermint flavoured, making it the only peppermint egg available nationally.
Finally, 2021 welcomes the KitKat Chunky Cookie Dough Incredible Egg (rrp £12) comprising a cookie dough flavoured milk chocolate egg with caramel inclusions, alongside three KitKat Chunky Cookie Dough bars.
Next year will continue to see a focus on sustainability from Nestlé as part of its commitment to making 100% of its packaging recyclable or reusable by 2025. All hollow eggs in the range will be plastic free, whilst a number of the packs in the Mini Eggs range have reduced their packaging by up to 20%. This will be communicated to shoppers with an on-pack flash.