Milk and white chocolate buttons containing mini Smarties will be available in the wholesale and convenience channel from 17 February.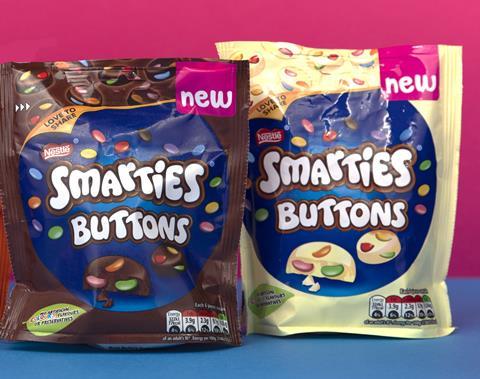 Single bags have an rrp of 65p and sharing bags have an rrp of £1.59. There is also an orange flavour sharing bag, but this is exclusive to Asda.
Smarties brand manager Alberto Pisanello said: "We know that Smarties hold special memories for so many people, and they are much loved for their bright colours, taste and texture. At the same time, consumers tell us they like their favourite brands to keep things fresh with exciting innovations and new varieties to try.
"It's Smarties reimagined, and we are tremendously excited to introduce this new addition to the family. We hope fans love them as much as we do!"
Smarties Buttons are being made at Nestlé's factory in Fawdon, near Newcastle-upon-Tyne. The factory is home to some of the UK's best-known confectionery brands, including Rowntree's Fruit Pastilles and Jelly Tots, Rolo, Caramac, Munchies and Toffee Crisp.