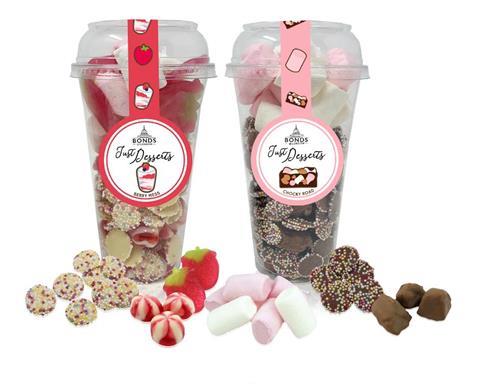 Hancocks has added two Just Desserts lines to its Bonds Shaker Cups range. Berry Mess Mix (285g) features fruit flavour jelly sweets, white chocolate flavour candies with candy toppings and soft marshmallows, while Chocky Road Mix (360g) includes milk chocolate cookie and fudge clusters, chocolate flavour disks with a candy topping and soft vanilla flavour marshmallows. They both retail at £9.60 for a case of six and come with an rrp of £3 per shaker cup.
The new cups join the existing line-up, which includes: So Sweet Mix, Candy Bliss, So Sour Mix, Rainforest Mix, Cherries & Berries and Rainbow Vibes. There is also an American confectionery inspired shaker cup (200g, rrp £3) – Sweet Taste of the States featuring popular American candy brands including Warheads and Nerds.
Chris Smith, marketing communications manager at Hancocks said: "The Shaker Cup range from Bonds has been popular with customers since it first launched, and the two new products are welcome additions.
"The benefits for the retailer are huge. These are a perfectly pre-packed pick and mix format. The shaker cups take up very little storage space compared to a regular pick 'n' mix display unit and can create an appealing display in store, helping to drive custom. They also work as a nice, low-cost gift.
"We're expecting these to become a firm favourite with businesses shopping at our stores. They're a well-designed product with an excellent selection of confectionery in each cup and offer good value for money."