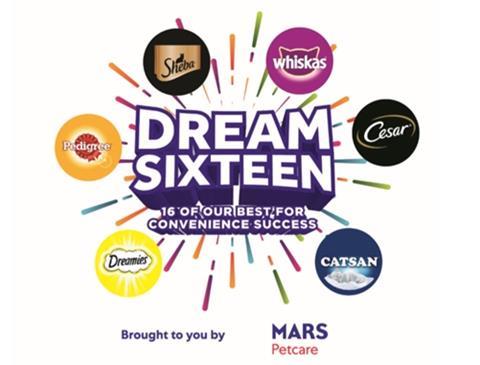 Mars Petcare has launched its 'Dream Sixteen' – a reinvigorated range of must-stocks for convenience retailers.
The 'Dream Sixteen' will also include three new price-marked packs (PMPs); bestsellers from Pedigree, Sheba and Cesar carrying RRPs of £3.75 - £4.75 price-mark to appeal to over half of shoppers who say they like this format.
Hoping to address what is perceived as a lack of choice in the channel, Mars Petcare has developed the 'Dream Sixteen' core range – including favourites such as Whiskas Pouches, Pedigree Dentastix, Pedigree Pouches and Dreamies – to support retailers of all store sizes address choice for shoppers and capitalise on the opportunity of increased sales by attracting lucrative pet-owning consumers to their stores.
Convenience channel director at Mars Petcare UK Alex Smith said: "After a challenging year for many, coupled with a marked increase in pet ownership as a result of more time being spent at home, we recognise that shopper habits and priorities have changed. Reacting to this, we're adapting our range and recommendations accordingly, working with retailers in the channel to showcase our new 'Dream Sixteen' core range. This is a selection of must-stock products from our well-loved brands – Whiskas, Pedigree, Sheba, Cesar, Dreamies and Catsan – which we have specifically selected to drive sales success for our convenience customers.
"In addition to rolling out the 'Dream Sixteen' we are also launching three PMPs across some of our bestselling SKUs. Having these available in a PMP helps them feel as though they are getting great value from their local convenience store."
The new PMPs are available now and will be supported with 'Dream Sixteen' merchandising advice and planograms from Mars Petcare.
Mars Petcare's Dream Sixteen includes:
• Whiskas 1+ Cat Pouches Poultry Selection in Jelly 12 x 100g – PMP £3.75 RRP
• Pedigree Dentastix Daily Dental Chews Media Dog 7 Sticks – PMP £1.95 RRP
• Sheba Select Slices Cat Trays with Chicken in Gravy 85g – PMP £0.65 RRP
• Pedigree Dog Pouches Mixed Selection in Gravy 12 x 100g – NEW PMP £3.75 RRP
• Cesar Classics Dog Tray with Chicken and Turkey in Loaf 150g – PMP £0.85 RRP
• Dreamies Cat Treats with Chicken 60g – PMP £1.25 RRP
• Whiskas 1+ Cat Pouches Fish Selection in Jelly 12 x 100g – PMP £3.75 RRP
• Pedigree Schmackos Dog Treats with Beef 12 stick – PMP - £1.25 RRP
• Catsan Hygiene Cat Litter 5L – PMP £4.25 RRP
• Sheba Fresh Choice Cat Pouches Poultry Collection in Gravy 6 x 50g – £4.75 RRP
• Pedigree Jumbone Medium Dog Treats with Beef & Poultry 2 Chews – £3.75 RRP
• Sheba Fine Flakes Cat Pouches Poultry Collection in Jelly 12 x 85g + Fresh Choice 50g – NEW PMP £4.75 RRP
• Whiskas 1+ Cat Complete Dry with Chicken 340g – PMP £1.25 RRP
• Cesar Classics Dog Trays Mixed Selection 8 x 150g – NEW PMP £4.75 RRP
• Pedigree Dog Tins Mixed Selection in Jelly 6 x 385g – PMP £4.75 RRP
• Whiskas 1+ Cat Tin with Chicken in Jelly 390g – PMP £0.95 RRP