Mars Wrigley UK is investing in digital advertising to promote the rollout of its recently-launched of M&M's bars.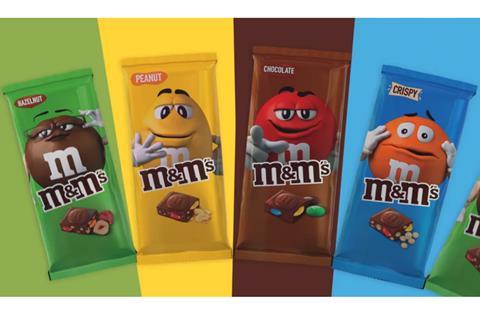 The campaign, backed by a £1.4m media spend, will see a suite of more than 50 new digital assets featuring the M&M's characters launch, alongside the return of the brand's 'Bad Passengers' Super Bowl advert (see below).
Activated across social media and digital out of home, supported by influencer campaigns and a brand partnership with LADbible, the activity is designed to promote the entire M&M's bars range.
Launched in July, the blocks of chocolate are available to c-stores now, come in four varinats: Chocolate; Crispy; Hazelnut; and Peanut, and carry an rrp of £2.49 each.
Cordelia Linacre, M&M's senior brand manager, said: "M&M's bars is a massive launch for us this year so it was only fitting we went big with this campaign! Including the adapted 'Bad Passengers', we have new assets specifically designed for each social platform and algorithm – while also capturing the fun and playfulness of our distinctive M&M's characters. We feel our diverse range of creatives are the perfect way to introduce M&M's biggest product launch of the decade to consumers, while simultaneously highlighting our continued investment in digital."