Mars Wrigley Confectionery is bringing its M&M's block range to the UK alongside a new salted caramel sku.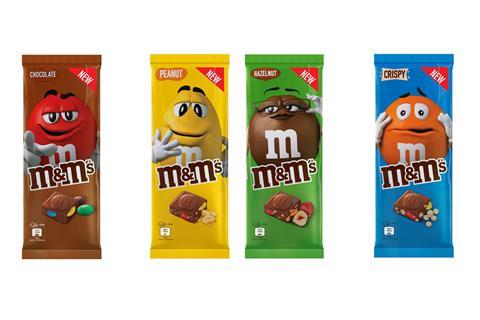 First launched in Australia and the US last year, each flavour of M&M's block contains mini M&M's encased in milk chocolate. The blocks come in four variants: chocolate; crispy; hazelnut; and peanut, and carry an rrp of £2.49 each.
Marketed as the brand's biggest launch in a decade, the range will make its debut in Tesco stores from 17 July before rolling out across the wider market later this summer.
Cordelia Linacre, M&M's senior brand manager, commented: "We're incredibly excited to be launching M&M's block into the UK market this year. We know that block is the biggest segment in chocolate however block currently under-indexes in under 35s, while M&M's over-indexes in this demographic [vs total confectionery, Nielsen Homescan, 52 w.e 21 Apr 2018]. We are therefore confident that with the UK launch of M&M'S block we will win over new consumers.
"Following a successful launch in Australia, M&M's block was introduced in the US in December 2018, delivering a massive $31m in just six months. Block's success in other markets alongside the consistently strong growth of M&M's in the UK gives us great confidence that this product will be a hit with retailers and consumers alike."
To support the launch, Mars Wrigley is investing in a £1.4m above-the-line campaign which will feature a British adaptation of the brand's 2018 Super Bowl commercial.
In addition, M&M's is also launching a new salted caramel flavour. Available in three different formats: pouches, treat bags and singles (rrp £2.09, rrp £1.19 and rrp 66p respectively), the chocolate combines M&M's with the on-trend taste of salted caramel.