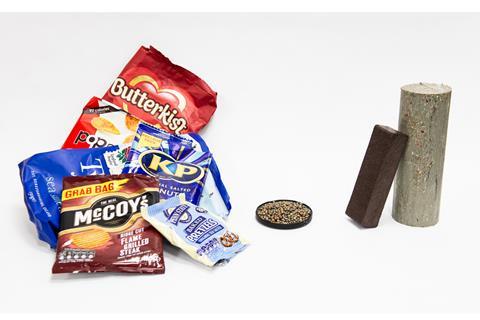 KP Snacks has unveiled a nationwide recycling scheme for bagged nuts, popcorn, crisps and pretzels as part of its 'pacKPromise' pledge.
The commitment is designed to help the brand reduce its packaging impact and achieve its goal for all packaging to be recyclable, reusable or compostable by 2025.
Working with recycling company TerraCycle, the new recycling scheme will tap into a network of recycling collection points, as well as supporting new collection points across the UK.
The scheme is free to use, with all brands of bagged nuts, popcorn, crisps and pretzels being accepted. Once collected, the waste packaging is cleaned and turned into small plastic pellets that can be used to make outdoor furniture, waste bins or storage boxes.
To encourage collection and return of the packets for recycling, the scheme offers charity points based on the number of bags collected in each area.
These points can then be redeemed by collectors for charitable gifts or a payment to a non-profit organisation of their choice. People are encouraged to collect as many packs as they can in one go and then send the waste in large batches.
Mark Thorpe, ceo at KP Snacks, said: "Plastic reduction is a significant challenge across both the manufacturing and retail environment that requires collaborative and innovative approaches. Giving consumers access to better recycling facilities is just one solution to a complex and challenging issue.
"The pacKPromise forms part of our longer-term commitment which will also see us reduce the amount of packaging across our portfolio, with an ultimate goal of making all of our plastic fully recyclable by 2025, as part of our membership of the UK Plastics Pact."