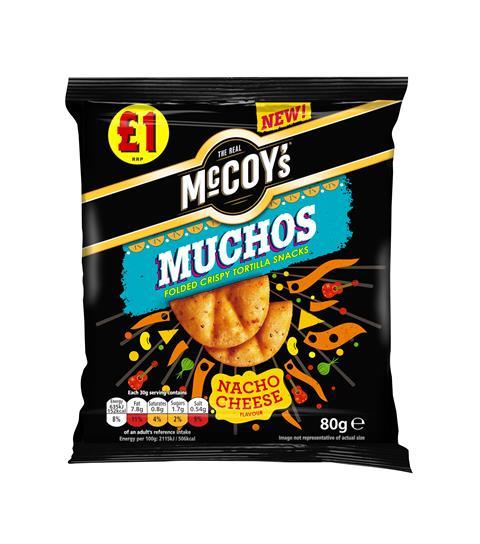 KP Snacks is adding a host of new price-marked packs (PMPs) to its range of savoury crisps.
Available from March 17, Wheat Crunchies and McCoy's Muchos will launch in £1 PMP grab bags for the first time (case size of 14).
The roll-out of the new 80g Muchos follows the launch of the 180 sharing bags in January. The smaller price-marked packs will come in two flavours: Nacho Cheese and Smoky Chilli Chicken, while the new 78g Wheat Crunchies PMP will launch in one variant: Crispy Bacon.
Furthermore, Pom-Bear will be made available to convenience stores in a two for £1 format from this month (case size of 32). The new packs follow the introduction of a similar offer across KP's Hula Hoops brand.
Matt Collins, trading director at KP Snacks, said: "PMPs encourage impulse purchases as they give consumers confidence in the value message. 82% of retailers tell us they want PMPs and so it makes sense to continually grow our PMP formats for convenience and impulse. It is important to continue adding to the range with our most popular brands to ensure we drive sales for retailers and maintain value for consumers."