Hovis' 1973 'Boy on the Bike' advert is returning to television screens across the UK, after being digitally remastered for a new audience.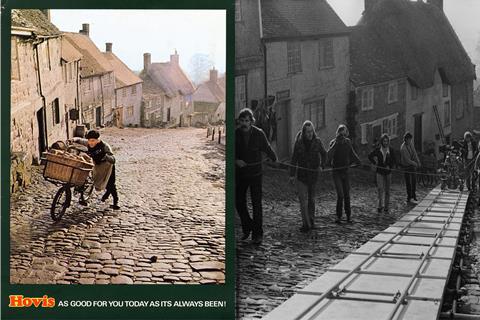 The TV ad helped launch the career of British director Sir Ridley Scott when it first launched more than four decades ago. It features a boy pushing a bicycle, with a basket of bread, up the steep slope of Gold Hill in Shaftesbury, Dorset.
Now, after extensive remastering and 4K digital restoration by the BFI National Archive and Ridley Scott Associates, Hovis is bringing the advert back to the small screen throughout this month from 3 June.
Jeremy Gibson, marketing director at Hovis, said: "At Hovis, we have always been about being real, honest people, with a passion for baking bread. The values of our brand have never been more relevant, so we decided to remaster and relaunch our 'Boy on the Bike' advert. It represents the iconic, family-focused nature of Hovis, that is at the heart of everything we do. 'Boy on the Bike' was the launch pad for the modern Hovis brand and laid the foundations for us to be one of Britain's favourite wholemeal and seeded bread."
Scott added: "I'm thrilled that the 'Boy on the Bike', 46 years on, is still regarded as such an iconic and heart-warming story which remains close to the heart of the nation. I remember the filming process like it was yesterday, and its success represents the power of the advert. It taught me that when you combine the appropriate music and the appropriate film you have lift off. In fact, advertising taught me everything I know, and I brought this knowledge forward into film."
Robin Baker, head curator at BFI National Archive, commented: "The BFI is proud to have restored one of the most potent, popular and iconic films in British advertising history. The 'Boy on the Bike' is a mini masterpiece of big, nostalgic emotion, but the original elements have been ravaged by time. Due to the skills of the conservation teams at the BFI National Archive it is now fully restored to its former glory for new generations to enjoy. It looks and sounds as good today as it did in 1973"
Watch the video below for an insight into the restoration of Hovis' 'Boy on the Bike' advert: