The soft drinks levy has meant retailers are having to adapt to a huge number of formulas, flavours and formats in the soft drinks category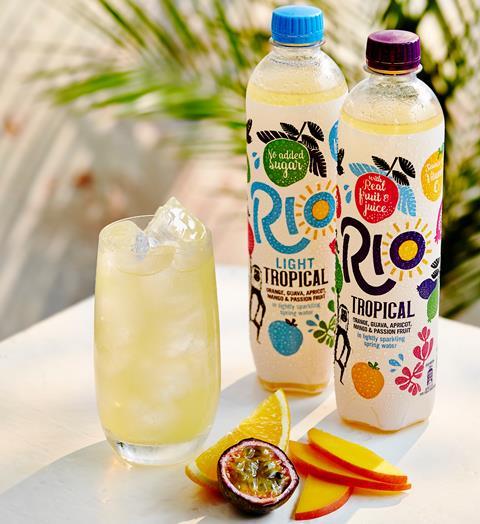 With spring in the air and temperatures on the increase, retailers will be hoping to encourage shoppers to splash out on some rehydrating soft drinks. Yet even if the sun doesn't come out, plenty of thirsty consumers are likely to head to their local c-store for some refreshment. According to Britvic's Soft Drinks Review 2017, buying a soft drink is the third most popular reason to visit a c-store, and number one in terms of basket penetration, putting the category just behind milk and tobacco.
The category is also the number one footfall driver in c-stores for those aged 16 to 34 years old, showing how important the category is for future generations of shoppers (HIM CTP 2017).
With all of that in mind, it's unsurprising that the category is worth £2.1bn to the convenience and impulse channel alone. Within symbols and independents, soft drinks is worth £1.47bn, with steady value growth of 0.5% in the past year (Britvic's Soft Drinks Review 2017).
While the figures look good, the soft drinks industry faced its biggest upheaval to date on April 6 when the Soft Drinks Industry Levy came into force, with its fallout still being evaluated by retailers.
Mark Canniford, owner of Spar Weston-Super-Mare, Somerset, says his soft drinks sales have remained buoyant so far.
One of the most noticeable changes for him has been the number of reformulations and new variants now on the market, as suppliers have adapted to the levy by creating products that avoid the tax altogether, or changing existing recipes.
"There has definitely been movement in products," he says. "I expect more products to change to low sugar over the next few months, but at the moment most shoppers seem to be buying their favourite drinks."
Mark concedes that sales of 
Classic Coca-Cola have slowed since the new pack sizes were introduced. However, he believes full-sugar products still have their place and will remain popular with his shoppers.
Sid Ali, owner of five Nisa stores in Aberdeenshire, is finding it challenging to try to balance price rises with the number of new variants and at the same time not forgetting about old favourites.
He says he was charged slightly more for Classic Coca-Cola just before the levy came into force, which he assumed was due to the tax, so Sid was surprised when the price went up again after the levy was put into place.
"A 500ml bottle of Classic Coke was £1 before the tax, then it went up to £1.09, and now it's £1.25. Not only that, but they have also replaced the 1.75ltr and 1.25ltr sizes with 1.5ltr and 1ltr pack formats. It's made things very confusing."
Sid thinks that customers do want a larger bottle to take home with them, but can see that the smaller 1.5ltr format is perfect for taking out on picnics.
He is concerned that the 500ml bottle may be changed in future, which he says could turn away shoppers on a 'grab and go' mission.
"I just don't understand why they would change the sizes," he adds, "especially when Coke had such a strong hold on the market."
He has an alternative idea. "What they should have done is keep every-
thing about the Classic Coke the same and then come up with a alternative, lower-sugar version. That way they would please the fans of the original and those who want less sugar with the same Classic Coke taste."
Alongside altering pack sizes of its full sugar products to keep prices in line with the low- and no-sugar lines, Coca-Cola European Partners has been extending its no-added-sugar portfolio.
Exotic mango and feisty cherry flavours have joined the Diet Coke range, while peach has become part of the Coca-Cola Zero Sugar line-up. The new additions were launched in a move to build on the growing consumer demand for light colas and flavour options in Great Britain.
The firm is also targeting Millennials with Fuze Tea, a premium, low-calorie blend of fruits, botanicals and tea, following insight that the popularity of the iced tea market has been strong, with growth of £6m year on year (Nielsen, December 2017).
Amy Burgess, trade communications manager at CCEP, says: "With a value of more than £7.7bn (Nielsen, December 2017), soft drinks present a huge sales opportunity for retailers as consumers look to refresh and rehydrate, whether they're on the go, have their feet up at home, or are planning to host a dinner party or family gathering.
"We expect the soft drinks category to continue to be driven by the health and wellness trend as people are more calorie conscious and turning to fitness-focused lifestyles."
From iced tea to iced coffee and Peter Campbell, managing director for Snowshock, believes the company's latest dispensed Frappino line is very much on trend with Millennials looking to grab a drink on the way to the office, or for a quick caffeine hit before a workout at the gym.
Campbell says: "Coffee shops have had a meteoric rise in the past decade, and iced coffee has really taken off in the past couple of years with young people.
"As leaders in the iced beverage market, we have introduced our own Frappino brand to combine the refreshing quality we are known for with an added caffeine boost."
Cawston Press moves to no-added-sugar recipe
Cawston Press has reformulated its sparkling drinks range using just pressed fruit juice.
The new no-added-sugar range consists of four variants: sparkling rhubarb; cloudy apple; elderflower lemonade; and ginger beer.
Cawston is the only brand in the UK to sweeten its ginger beer using only pressed juice.
Steve Kearns, md for Cawston Press, says: "In some cases we are upping the fruit juice content by up to four times per recipe. For a small company like ours, that's an enormous investment.
"We know from our 30 years' experience in pressing fruit that nature does it best and it's a small price to pay to know we're bringing the best-quality, best-tasting drinks to the market. We believe in what we are doing and are excited to be paving the way for the future of soft drinks."
Each of the new recipes contain less than 90 calories and 31% less sugar than before. Cawston Press also has committed to cutting 300 tonnes of sugar from its fizzy drinks between now and December.
The new Cawston Press line-up is available to independents now and is sold in 330ml single cans (rrp £1.19) or 4x330ml multipacks (rrp £3.99).
Go low or no sugar
Low- and zero-sugar products are a real opportunity, according to Avtar 'Sid' Sidhu, owner of Kenilworth Budgens, in Warwickshire. "Not only is price a driving factor for purchases, but health is, too. I can't see why more people won't switch over to them in the long term," he says.
"The levy could actually give us leverage against the competition, especially when soft drinks is traditionally such a high-margin product for independents."
He says he is turning the levy into an opportunity and creating a point of difference by excluding sugary drinks from his meal deals to avoid raising the price.
"Boots, for example, has had to increase the price of its meal deal because it wants to offer every different type of soft drink.
"I actually think this is an opportunity for independent retailers to show that they are looking to cut down on sugar and offer competitive pricing at the same time. My meal deal is £3.50, whereas Boots' is nearly £4."
Sid Sidhu adds that operating the meal deal like this is easier because coffee and fruit juices are excluded from the levy, "so we can still offer them in our range".
Not only have sugar-free drinks been popular in Atul Sodha's Londis store in Harefield, Uxbridge, but he has also seen low-sugar soft drinks bring new customers into his store. "The proof is in the sales," he says. "Looking at my data, I can see low-sugar soft drinks are bringing new money in – meaning it must be encouraging new shoppers into store, too."
Success all the way for soft drinks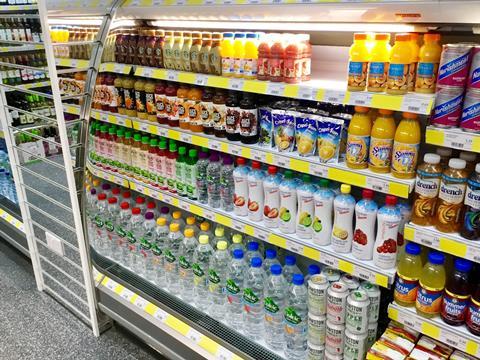 Trystan Farnworth, commercial director of convenience & impulse at Britvic, is buoyant about the future of the soft drinks category in convenience stores.
"There's a really positive story to tell for soft drinks in convenience at the moment," he says. "The results showcased in this year's soft drinks review show that the category is in good health.
"It's interesting to see the opportunities that no-sugar-cola and Generation Z shoppers are bringing to soft drinks.
"We also believe that there is plenty of potential for the soft drinks category growth to continue, providing that manufacturers and retailers remain agile and can successfully adapt to meet the ever-evolving demands of consumers."
John Campbell, commercial operations director at Britvic, adds: "The consumer landscape and the way people live their lives is fundamentally changing and now is the time for the category to evolve. Soft drinks must adapt in order to maintain, but also grow, their relevancy among consumers."
Britvic has created a new category vision for the soft drinks sector – Drink Differently.
The company believes it can tap into a £2.6bn sales opportunity over the next five years by ensuring soft drinks remain relevant to all consumers and all occasions, across all channels.
Sid Ali says consumers are now adapting to the new soft drinks landscape and he has "definitely seen a bigger uptake of the lower-sugar versions".
"Irn-Bru Extra has been the best new performer. I don't think it has necessarily taken any sales away from any other areas, but it seems to have captured people's imagination."
Sid Ali didn't stock Irn-Bru for seven years because he thought it was too sweet for his customers, but now reports that the Xtra version has been very popular.
"I would probably drink it myself," he asserts. "I read somewhere that it only takes two to three days for consumers to switch to the reformulated or lower-sugar options. Once they get past the first few days of the drink tasting a bit funny, they soon adapt very quickly."
Adrian Troy, marketing director at Barr Soft Drinks, acknowledges that there is demand for regular soft drinks, but says its research has highlighted that many carbonates shoppers, in particular, are looking to reduce their sugar and calorie intake.
"Barr Soft Drinks has a responsibility towards these consumers to help them reduce their sugar intake," he says.
"We have responded by introducing new and innovative mid-sugar regular products as well as low- and zero-sugar options across our key brands."
It's crucial that retailers react accordingly to cater for shopper needs and maximise sales, Troy asserts.
Given the shifting of products and the sheer choice available, now could be the perfect time for retailers to refresh their range. That's what Sid Sidhu is going to do. He says: "Normally, I do a range review for each category about twice a year, but I'm going to look to do at least two soft drinks reviews in the next six months.
"I think the category just needs a bit more intensive care than it has done in the past. Just by keeping an eye on epos data, retailers should be able to keep a check on things. All this change should be seen as an advantage."
Sid Ali is also going to take the opportunity to review his range. "I said to my staff the other day that we are probably going to go through the whole soft drinks range to separate out all the old formats and re-merchandise the range to account for all these new lines," he explains.
Atul advises retailers go direct to suppliers to help with mechandising. "With help and insight from brands such as Lucozade Zero, we are able to make an informed choice to build the correct range in the chiller," he says.
Sunmagic celebrates anniversary with a new look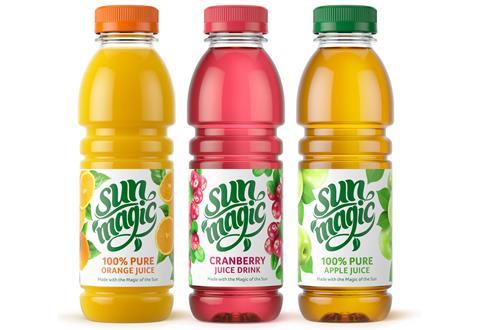 Sunmagic, the premium juice producer, has rebranded its entire drinks range to coincide with the brand's 20th anniversary celebrations.
The new-look packaging features an updated logo and labelling, designed to give the brand a more modern look and feel.
The redesign is being rolled out across Sunmagic's 500ml PET bottle range, with the 
rest of the range receiving the updated look over the coming months.
The redesign also features a new strapline 'Made with the Magic of the Sun', and the full relaunch will be supported by branded lorries, a new website and an extensive press advertising campaign.
Sunmagic brand manager Justin Thomas said: "2018 is a landmark year for Sunmagic. This is a chance for us to focus on the brand's heritage of producing premium juice for 20 years now and will highlight the comprehensive range of juices and smoothies we offer for all occasions.
"We are really excited to be rolling out the new branding this year and have a series of other activities planned to ensure Sunmagic continues to be at the forefront of soft drinks innovation."
Dee Sedani, of One Stop in Etwall, Derbyshire, says that Diet Coke and Pepsi Max are his best sellers in both can and bottle formats, which shows that people have already made the switch to low sugar, but he also believes the water category has gone from strength to strength and is one to watch.
"Bottled water is selling very strongly," he says. "I've always tried to stock healthy and low-sugar drinks anyway; they are something people want and are always looking out for.
"There is no point in turning down the opportunity to stock low-sugar lines that sell really well," he concludes.
Dee's sales are in line with overall market trends. The flavoured water market is a soft drinks success story as both impulse and larger formats have experienced growth in the past year (Nielsen, December 2017).
Carol Saunders, head of customer marketing for the Highland Spring Group, says that the increasing consumer and media focus on health, as well as the imposition of the sugar tax, continues to be a major driver of product choice in the category and is a significant consideration for consumers when choosing between drinks.
"Bottled water's lack of calories, sugar, preservatives and additives, together with its convenience and refreshing taste, provide health-conscious consumers alternatives to fizzy drinks and sugary juices. There has been heavy switching from fruit juice, fruit drinks, cola and fruit squash, to water (Kantar, 52 w/e 23 April 2017)," she reports.
Danone Waters UK sales development controller John Letford points out that shoppers are actively seeking alternatives to sugary soft drinks. He says that while sugar-free alternatives are currently driving growth within wider soft drinks, research has shown there is a clear consumer trend towards natural, less-processed drinks (Kantar Worldpanel, June 2017).
Clark McIlroy, managing director of Red Star Brands, agrees. He believes the influence of healthier soft drinks products is unlikely to change in the long term.
"Water, in particular, is driving strong growth, selling 26 million units in the latest year, with water-plus contributing to more than half of this.
"Retailers have to make brave choices and open up more space to both water and water-plus brands moving forwards," he asserts, "as they are a significant growth driver in the category, a trend we expect to see continue, being well placed to meet consumer needs in a post-soft drinks levy market."
McIlroy points out that the definition of what is 'healthy' has changed. "Health is now a lifestyle choice. The post-Millennial is as familiar with the back of the packet as they are with the front – they know what to look for and what to avoid, typically referring to calories, sugar and artificial ingredients.
"They fuel their bodies with brands that have functional and tangible benefits to their wellbeing."
Red Star Brands supplies the Sparkling Ice sparkling water and Bai antioxidant drinks.
Drinks with benefits
James Logan, commercial director for Refresco UK, says the growing interest in 'heathier' soft drinks extends beyond the sugar debate as shoppers also want drinks with added health benefits. "Shoppers are actively seeking better-for-you drinks with nutrition-rich juices incorporating green vegetables, cranberries and added fibre and protein," Logan says.
Rich Fisher, category development manager at Red Bull UK, believes the soft drinks category relies on variety.
He says: "Taste and refreshment are always going to be key drivers in the soft drinks market. Busier lifestyles and increasingly time-poor consumers, however, mean that the market is looking for more all the time. Products that deliver added value for a range of occasions, such as multi-vitamins, protein or a functional energy boost, continue to be popular."
Logan advises retailers to ensure they cater for grown-ups, as well as the younger generation. "Adult soft drinks and mixers are important to promote as consumers have a thirst for more sophisticated, less sweet flavours to be drunk with or without alcohol. The desire for interesting and exotic flavours also continues," he adds.
Ed Jones, senior customer marketing manager for Vimto, points out that retailers should try stocking more interesting flavour combinations. He cites research that shows there is an ever-growing appetite for more exotic flavours, with 61% of teens and 50% of mums wanting to try new drinks (IRI, August 2017).
He suggests this could be due to people more frequently abstaining from alcohol and therefore looking for more interesting drinks to replace alcoholic drinks.
"Recent growth in soft drinks has been driven by the continued trend toward premium and occasion drinking within the take-home sector, which is up 6% value year on year (Nielsen, July 2017), especially since one in four 18- to 24-year-olds are now teetotal."
This growing trend for abstinence can be clearly seen through the wide ranging NPD within the alcohol category itself, with many zero- and low-alcohol variants appearing on the market, but often still coming at a higher price point than the average soft drink.
Jones adds that this trend could be a big opportunity for the soft drinks category, but retailers can't expect to win over alcohol abstainers with standard soft drinks.
"Shoppers aren't just looking for any old drink to replace alcohol consumption, or to serve when hosting friends and family at home;they're conscious of what they are putting in their bodies," he says.
Merchandising
Despite all this talk of low-sugar and healthy drinks, Mark is adamant that if retailers want to profit from the soft drinks category post-sugar tax then they must keep a close eye on their sales figures and merchandise according to their best sellers, as opposed to just trying to stock lots of low-sugar options because of the tax.
"It's important that retailers do what they think is right for their store and choose the products that are right for their shoppers," he asserts. "It may not be necessary for some retailers to stock and merchandise according to sugar.
"I'm going to continue to promote my range based on sales."
McIlroy urges retailers to recognise the sub-categories that are selling well in their stores and change their range accordingly.
"Red Star Brands works to keep a constant watch on market trends and has seen that soft drinks with a focus on 'better for you' are out-performing traditional categories such as cola, carbonates and RTD juice drinks," he says.
"Consumers are voting with their feet and retailers need to use their chiller space wisely."
He adds: "True innovation is required now from emerging brands that taste fantastic but have virtually no sugar or calories. Retailers should not be afraid of change. Retailers should open their shelves to low- and no-sugar brands, and make the brave decisions about what they stock."
Simon Gray, MD and founder of Boost Drinks, believes store owners should be changing their soft drinks fixture to reflect modern trends. He says: "Retailers should consider introducing more sugar-free options or trialling the sugar-free NPD that is coming into the market, to give shoppers something new to try to support their lifestyles.
"We are always thinking of ways to support our products with promotions, which can also help retailers maximise sales.
"We have recently launched a 12 for 10 promotion available in 500ml and 1ltr Boost Energy Original pricemarked SKUs."
The current promotion is available from now until the end of May, and the company will also be running another 12 for 10 promotion from September to November this year.
Scott Meredith, UK sales director for Lucozade Ribena Suntory, believes finding a balance is key.
"Space in the soft drinks chiller should be allocated according to what sells best," he says. "It's also crucial that zero-sugar variants are available, too.
"Shoppers must be able to come into store and easily find their favourite brands, as well as be tempted by new products that offer something different."
It's not just the products that need reassessing, according to Sid Ali – formats do, too. "We've seen a bit of a can revival in the past few years in a category that was in decline. I think people like to have the choice between a bottle and a can," he explains.
"Last month I sold the highest amount of Irn-Bru cans I have ever done. I'm not sure whether it was the hot weather, or because people wanted the old packs, but I have never sold 15 cases in one week before."
Avtar points out that the conversation about low- and no-sugar soft drinks is far from over and retailers need to be prepared for further changes.
He says: "From now on we are going to see a continued shift of people moving to low- or no-sugar drinks – not just consumers, but retailers, too."
Barr Soft Drinks steps up retailer support
Barr Soft Drinks has unveiled a new vision for retailers to manage their soft drinks fixture, focusing on three areas that contribute to sales growth in convenience retail.
The three drivers – Health & Wellbeing, Taste & Fun and Lifestyle & Culture – reflect changing consumer lifestyles and emphasise that retailers need to adapt their soft drinks range following last month's industry levy.
Nick Bentley, category and shopper marketing controller for Barr Soft Drinks, says: "We've taken a long, hard look at the category, together with the lifestyle changes that are sweeping across the UK and how they impact on soft drinks consumption.
"It is difficult for retailers to be an expert on every category within their store and that is where we can help by really understanding your shopper at local level, to ensure your store stands out from the crowd by offering the choice they really want."
The new strategy means Barr will launch bespoke POS to better signpost the soft drinks fixture and enable retailers to engage with consumers, making it easier for shoppers to find the products they want.
Planograms
Bentley adds: 
"Using a regional planogram based on shopper need states will ensure that retailers are offering the right range of products for their shopper.
"Merchandising the chiller in a clear and engaging way, with POS to signpost, will make shopping the soft drinks fixture much easier and ensure that your store stands out from the crowd."
Barr has trialled the merchandising strategy at three stores in different regions for more than two months, and has delivered an average sales uplift of 18%.
The new category vision will be supported by a range of trade-facing communication including an app which will give retailers access to regional planograms and in-store POS, as well as the Barr Twitter feed.