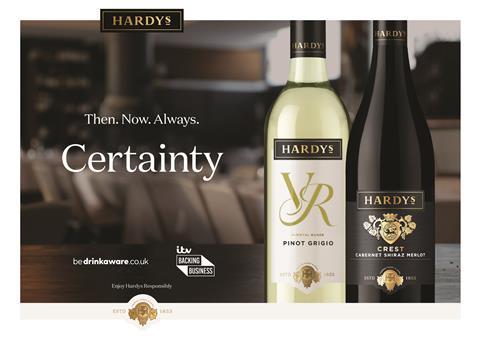 Hardys is returning to TV for the first time since 2018 after a partnership with ITV was agreed to showcase their 'Certainty' campaign.
Hardys hopes the campaign, part of a £3m marketing investment, will convey the brand's consistency and quality, and will be supported by digital advertising, social media and PR, as well as further in-store activity.
This comes after a packaging re-design to unify the portfolio in 2020.
The partnership will see Hardys showcased alongside some of the UK's most popular shows, to drive further awareness and consumer demand.
Europe marketing director for Accolade, Tom Smith, said: "Hardys has crafted quality Australian wine for over 168 years and has dominated in the UK market for over a decade. Hardys' consistency in quality and wine style, year in year out, was the inspiration for our confident new creative, which shows how we've been a constant in people's lives, present in key moments and for memorable occasions, throughout the decades.
"The consumer landscape will always change, and the last couple of years have certainly shown that, but our new campaign ahead of an exciting year of NPD for the carbon-neutral brand, offers reassurance to retailers and consumers that with Hardys you can always be certain. The promotion with Learning With Experts will further reinforce shoppers that they are making the right wine choice, especially around the busy Easter period.
"This significant investment will promote Hardys enduring status, and we expect it to deliver strong incremental sales and profit across the market."
As well as a new advert, Hardys has a new partnership with online learning platform learning with experts which will invite shoppers to leave a review of Hardys wine, via a dedicated microsite, in return for a free lesson on a subject of their choice. The promotion will be advertised on more than three million Hardys neck flags across retailers from April, alongside in-store sampling activity with a focus on the Easter sales period.