Geeta's is rolling out updated packaging across its entire chutney range this month, alongside new additions and a smaller jar format.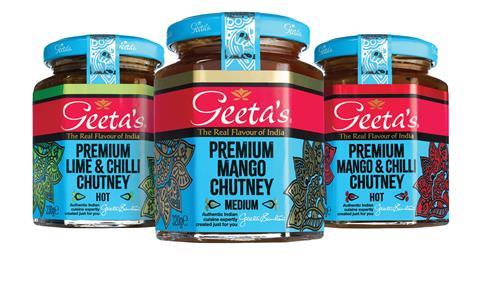 The revamped range now incorporates a design inspired by traditional Rajasthani artisan block printing, to give the products a contemporary look and greater stand out on shelf.
Geeta's has also changed the size of its chutneys. Most variants will now come in smaller hexagonal 230g jars with a lower rrp of £1.69. The format is designed to make the range more accessible to consumers at different meal occasions.
Nitesh Shah, director of business development at Geeta's, said: "As consumers are looking for more variety in their cupboard, smaller pack sizes are becoming increasingly popular and seeing category enhancing growth [+14.4%] (Kantar 52 w/e 21/04/19). Geeta's hopes to further increase its share with these changes."
Geeta's premium mango chutney will continue to be widely available in larger 320g jars (£2.09), as well as in the smaller jars. The brand's premium mango & chilli and premium lime & chilli chutneys will move to the new smaller jars from this month.
In additions, new additions: premium tomato & chilli chutney, premium sweet lime chutney, premium pomegranate & mango chutney, and premium lime pickle, are being introduced to the Geeta's range to give consumers more variety. The quartet will come in 230g jars (rrp £1.69).
Shah added: "As consumer spending on ambient ethnic food continues to grow, we are ideally placed to actively appeal to consumers who are focusing more on flavours, not just cuisines. Geeta's is all about inspiring consumers to add great tasting Indian flavours to all meals and snacks, thereby offering retailers opportunities to boost incremental sales.
"Our core range of chutneys, all of which are vegetarian, vegan, and gluten free, offer versatile flavours that can be adapted to a variety of usage occasions. Our job now is to educate the consumer and ensure retailers stock our new full range."
To support the chutney range revamp, Geeta's is investing in a 'Made in India: Loved in Britain' consumer marketing campaign, aimed at encouraging trial of its products and promoting wider chutney usage across the UK.
A PR and social media campaign will support the activity for the rest of the year, and national consumer sampling roadshows will see Geeta products distributed to more than 100,000 people.