Geeta's, is building on its brand heritage and consumer demand for ethnic flavours with the introduction of a new range of Indian sauces.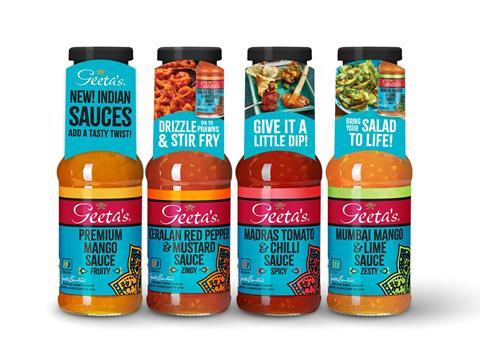 The new portfolio of four: Keralan Red Pepper & Mustard; Madras Tomato & Chilli; Mumbai Mango & Lime and Premium Mango, has been designed to inspire consumers to add Indian flavours to any meal or snack.
Available from the end of April, the full range will retail in independent retailers nationwide (rrp £1.99 per bottle). All Geeta's products sold in the UK are distributed by Petty Wood.
Nitesh Shah, director of business development at Geeta's, said: "The Indian sauces category has been stagnant, slow moving and unimaginative for several years. We want to add sizzle to the category and inject some excitement through innovation and, in doing so, offer retailers a huge opportunity to bring Indian sauces back to life and drive category growth.
"So we're building on the success of our UK favourite Premium Mango Chutney with the launch of four attractive, new Indian sauces which stand out on shelf and will appeal to a wide range of consumers who are looking for versatile flavours that can be adapted to a variety of usage occasions."