Highclere Castle Gin uses botanicals from its gardens to create a super-premium London dry gin.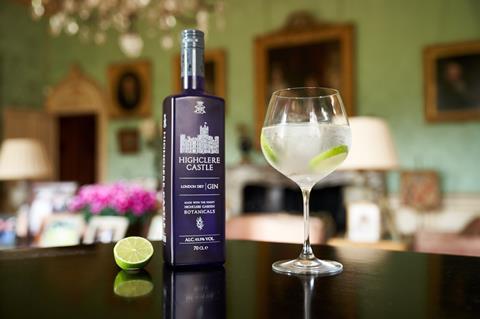 The Highclere Castle Gin (43.5% abv), which is a mix of juniper, lemon, orange peel and lavender, is being sold in a purple bottle featuring the castle's image.
Highclere Castle is owned by the 8th Earl and Countess of Carnarvon. The Countess of Carnarvon commented: "For years Highclere Castle has been renowned for its entertaining and house parties with gin and cocktails featuring through years. We therefore felt with the ever rising interest in gin, the family's heritage, and indeed the Carnarvon's love of the spirit, it was a natural step to make a gin with Highclere provenance."
The new product will be made available to independent retailers on 18 June, with an rrp of £39.99 per bottle. The gin will be sold via major wholesalers.