The spirits category is in gintastic shape, but retailers need to embrace new flavours and changing tastes to keep up the momentum.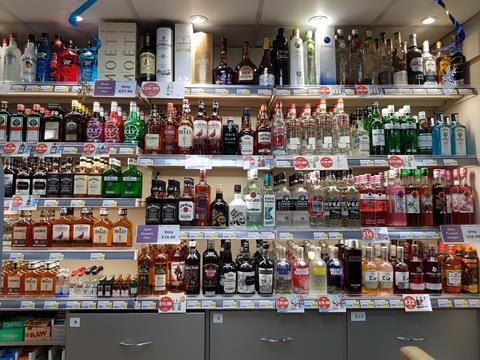 Consumers no longer need an excuse of a big event to purchase spirits. With unicorn tears gin and popcorn daiquiri on offer to tempt shoppers, nothing is off limits within the category.
In 2018, Brits spent £466m more on alcohol than they did the previous year (Kantar 2018), with spirits taking a large share of the uplift.
Spirits saw value grow 7.4% to £11.1bn – ahead of both beer and wine (Diageo Drinks Report 2019) as a growing number of consumers seek out specialist lines at higher price points.
Dayalan Nayager, Diageo managing director for Great Britain, Ireland and France, says consumer interest in the products they purchase and consume continues to gain pace. "As a result, repertoire is increasing and traditional categories are being disrupted as consumers become increasingly likely to try new things," he says.
"Gone are the days of siloed consumer choices. These days many consumers enter a supermarket, bar, restaurant or pub looking to be inspired, rather than with a predetermined choice."
Nayager says this presents both opportunity and challenge to the marketplace. "It becomes ever more important to understand the demands of the consumer, in the occasions in which they are partaking. Looking to the future, we know that a true understanding of the demands and behaviours of our consumers will be essential to remain relevant in the fast paced and exciting world of alcoholic beverages."
Bimber Distillery sales manager Mateusz Horoszko claims that craft and premium spirits are in demand as consumers become more discerning. "In terms of sales, it is definitely premium gin and whisky for us that are the clear best-sellers. We are starting to see sales of our craft vodka picking up, too. Quality is a key.
"We have seen a huge distinction in alternative flavoured spirits in recent years. Consumers are looking for more variety, as well as authentic and unique flavours. Flavoured gin and vodka are making a big impact on sales and I think it will still grow, as more and more consumers are going out less and drinking more at home."
While malts (up 3.6%) and rum (up 4.1%) saw positive sales growth last year, most of the sales increase in spirits is being fuelled by gin, which grew by 52.2% in value (CGA, Nielsen MAT 5 January 2019).
In fact, following a fifth year of consecutive growth, gin was the fastest growing category in total alcohol (Google Internal Data 2018).
Christine Hope, owner of Hopes of Longtown in Hereford, has made stocking premium gin lines a priority. "Gins are massive. Local gins are the top-selling lines in our store within the whole spirits category. Customers like to know that what they are drinking is premium and local to their area," she says. "We have seen a real growth in local products, specifically spirits, in the tourism market, too."
Tom Birch, manager of Spar in Ormskirk, agrees. "I think the spirit market has boomed in recent years, most notably recently with the era of gin. Gin is leading the way with regards to sales in my store, with that and vodka equalling about 50% of total spirit sales."
Both flavoured big brand gins and more unusual lines are proving success for Welcome Co-op franchisee Richard Inglis. "Products such as pink gin have been a strong seller for us. We do stock a lot of other new and alternative gins, such as rhubarb & ginger, lemon drizzle, sloe gin, to name a few. However, in terms of real stock movers, it's the Gordon's Pink Gin that sits at the top of the pile for gins."
Jen Draper, marketing director at mixers and tonic supplier Franklin & Sons, says there has been a proliferation of new brands entering the category and bringing about innovation.
"The UK comprises 72% of the total EU production of gin (Office for National Statistics UK manufacturers' sales: a focus on the beverages industry 2018), showing just how popular it has become among consumers. That is why Franklin & Sons chose small craft gin producers to collaborate with, such as Caorunn Scottish Gin, anticipating the trends in the spirits category this year."
Caorunn Scottish Gin (6% abv) combines Franklin & Sons Natural Indian Tonic Water with Caorunn Gin, in new 250ml cans.
London calling

Bimber Distillery has released three new London Classics premium spirits. London Vodka, London Gin and London Rum (40% abv) come in 70cl bottles and feature a contemporary design and branding. Rrps are £21.95, £22.95 and £24.95 respectively.
Flavoured gins
Draper believes that alternative spirit variants are beginning to shape the category and explains that specialist gins can have mass appeal. "Flavoured gin has recently attracted more attention within the spirits category, as consumers begin looking for new tastes and ways to switch up their usual G&T," she says.
"We want to encourage more people to become everyday gin connoisseurs, discovering the very latest trends, but more importantly understand how they can access and even replicate them at home."
She recommends creating pairing menus for consumers matching different gins with tonics.
Paul Cheema, director of Malcolm's Stores in Coventry, has seen first-hand the potential of gin premiumisation and consumers' willingness to explore different flavours and drink combinations. "Gin is really big, and we will still keep going on with gin as sales are high. We've always sold a lot of wine and beer and traditional spirits, but the markets are changing. If we'd stayed how we were, we'd lose trade.
"It is all about being on-trend. We buy in threes. We will buy three types in, get rid of that lot and then get a new batch in and see what sold the best."
Paul has partnered with a leading spirits supplier to boost sales in-store and encourage his customers to try new drinks. "HIM introduced me to Global Brands and they are all about the perfect tonic and mixer with gin. They came into our store to show us gins and started with six or seven on the counter. They now provide our chosen mixer or tonic to go with a specific gin in a fixture," he says.
Another area Paul has looked into is how he can appeal to consumers on a gifting mission. "We also teamed up with another company who helped put together gin-based gift sets. It is all about merchandising an entire experience.
"It is all about interruption. Interrupt and inspire is what we try to do well in our business. It has been a long journey, we've been doing it for a long time now. We always want to learn – the more combinations we can put together or experiences we can offer in store the better."
He claims that consumers' love affair with gin can even expand to non-alcoholic lines and has recently begun stocking alcohol- free gin.
"I didn't know much about alcohol-free spirits, but we went to Diageo and they sorted some out for us and it worked," Paul adds.
"You've got to give that choice to customers now, as you don't know who wants what or why they might want low or no alcohol products for whatever reason."
He may well be on to a winner as more than six million adults in Great Britain do not drink alcohol – an increase of 59% year on year (12 m/e Kantar Worldpanel Alcovision Data 30 June 2018), while one-third of 18- to 24-year-olds in the UK are teetotal (University College London 2019).
Kopparberg in the pink with premium gin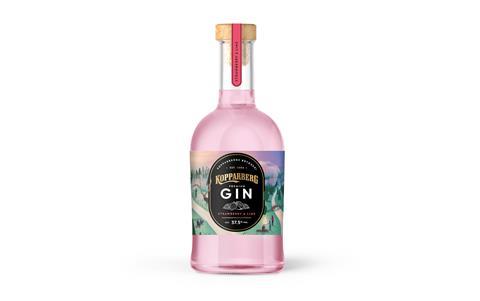 Kopparberg has branched out from its traditional cider repertoire with a premium gin.
Kopparberg Premium Gin (37.5%) is double distilled over a two-week period to deliver the taste of a London Dry-style gin.
The gin is available in a strawberry & lime flavour as well as gin & lemonade pre-mix, and will be supported as part of Kopparberg's £6m 'Outside is Ours' marketing campaign across TV, digital and out-of-home.
Kopparberg head of marketing Rob Salvesen says: "We've made it our mission to use our drinks knowledge and flavour expertise to bring the spirit of Kopparberg to life. Not many know that we brew and distil many other drinks in our brewery in Sweden.
"With more than 10 years' experience in distilling gin, as well as our success as flavour leaders here in the UK, it was an obvious decision for us to introduce Kopparberg Premium Gin in one of our most iconic flavours. This focus on flavour, combined with our premium fruit refreshment positioning, is what we feel will set us apart from other pink gins."
The Kopparberg Premium Gin is available in a 70cl bottle, while Kopparberg Premium Gin & Lemonade is available in a 250ml can and 4x250ml multipack.
Beyond gin
Be it premium, flavoured or non-alcoholic, consumers' yearning for diversity and inspiration isn't limited to gin. "As much as it pays to be on trend with gins, it's important not to forget the focus on vodka," says Richard.
"Vodka is still the main seller for us in spirits. That's my main profit driver in spirits and takes more than 50% of the profit for the selection. I see flavoured vodkas as the future winner."
Meanwhile, Diageo Reserve GB whisky brand ambassador Colin Dunn firmly believes traditional Scotch is due a renaissance. "There is a huge opportunity to engage consumers with Scotch. Interest is growing and it is important for us to banish any misconceptions people may have to help encourage this," he says. "For example, the notion that whisky is just a winter drink is an old-fashioned view.
"The versatility of Scotch means it can be enjoyed in so many ways and in all seasons – one of the reasons driving its popularity, making it a fantastic option."
According to Paul, it is rum that is ready to take a turn in the limelight. "The gin boom is still happening, but you've got to be thinking 'what is it going to be next?' I strongly believe rum is going to be big this year. We've started to stock more variants of rum because that is where we think the industry is heading."
Paul Hargreaves, ceo at Cotswold Fayre, also predicts rum will gain in popularity, although not at the expense of gin just yet. "I don't see the gin bubble bursting this year. but there is a younger audience looking towards differentiated rum products," he says.
Tine Van Nevel, brand director of Bacardi Europe, believes that alternative rums are on the rise. "While sales of the rum category are growing, figures are indicating that within the category alternative flavours are growing at the fastest rate of 14.5% (Bacardi).
"According to a recent study we conducted, when shopping for spirits customers identified the desire to try something new and how easy a spirit is to serve as key factors in their decision-making process, which is likely a big reason why flavoured rums are proving so popular."
She adds: "For this reason, we've been concentrating our efforts on expanding our portfolio to respond to consumer demand for flavoured spirits. Last year saw the launch of Bacardi Raspberry and Bacardi Ginger to great success, and earlier this year we launched Bacardi Spiced, which has been a huge hit."
Love Drinks adds rum cocktail RTD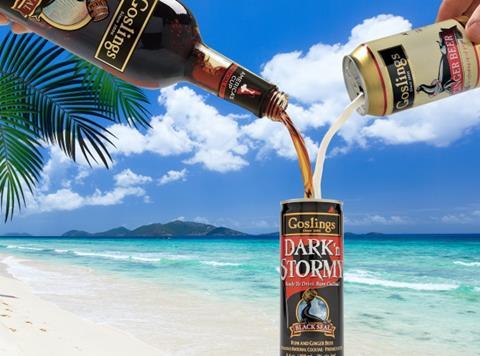 Love Drinks has added to its ready to drink (RTD) range of cocktails in a can with Goslings Rum Dark n Stormy.
The new can (4.5% abv) is made with Goslings Black Seal Rum and Goslings Stormy Ginger Beer and is sold in a 250ml format (rrp £2-£2.25, available to retailers in cases of 24).
Gosling global brand ambassador Emily Gosling says: "It's an exciting time for the rum category with increased consumer interest in the intricacies, provenance, serves and heritage behind the drink. For lovers of the Dark n Stormy, or for consumers looking to discover what the rum category has to offer, this launch provides the perfect solution."
Love Drinks marketing manager Ellie Jones claims the 'classic and much-loved rum cocktail' is loved for its simplicity, spice, flavour profile and refreshment value.
"Made with the same passion that has helped the eighth generation family business become one of the most-loved and recognisable rum brands in the world, I believe this new Goslings Rum Dark n Stormy will provide the perfect platform for the brand to reach new consumer groups and become a big player in the premium end of the RTD category," she says.
Ready to drink
Bacardi has also been busy on the Ready To Drink (RTD) front with several new varieties. Breezer RTDs – available in blood orange & ginger, strawberry, cucumber & mint, and lemon & elderflower – are on offer through Booker and its symbol groups, rrp £1.80.
Bacardi is also launching a range of RTDs of classic Bacardi serves such as Raspberry Spritz and Mojito this month.
"We're confident the introduction of Bacardi RTD cans, as well as Bacardi Spiced, will satisfy the taste buds of long-time rum drinkers as well as converting some new fans with their versatile and distinct flavours," says Van Nevel.
She puts the rise in popularity of RTDs down to their suitability for casual daytime drinking occasions. "In terms of the sales of bottles and RTD cans, consumers are focusing more and more on convenience when purchasing and, as a result, RTD cans are experiencing a big sales boost. The popularity of RTD cans is likely down to the fact that they can be purchased individually and are popular among those who want to grab one or two drinks while on the go or for casual daytime occasions."
Draper points out there is a shift in consumer behaviour towards RTD cans rather than bottled spirits, citing convenience as one of the reasons. "This format is welcomed at places like beaches, pools, parks, festivals and picnics, which usually prohibit glass. This makes them ideal for consumers on the go as they are easy to carry, require no mixing, and look great on social media," she says.
"Consumers are constantly looking for more convenient and efficient ways to live their life. Pre-mixed spirit drinks hold mass appeal for consumers that want quick-serves, but still want quality flavours and experiences at parties or events."
Richard says that RTD cans play a "huge" part of his spirits range and are a strong sales driver.
"Not everyone wants to come in and buy a full bottle of vodka or gin, so these cans are a great way of meeting the new market need. To give an idea of how popular they are, we sold more than £1,000-worth of RTD cans last week. That made us the same amount of profit as our entire vodka range in the same time.
"The top-selling RTD cans make interesting reading for us, though. The sales switch to more gins over vodkas when it comes to pre-mixes. You've got Gordon's Pink Gin & Tonic and Gordon's Slimline Gin & Tonic at the top, followed by Jack Daniel's & Cola and Captain Morgan Spiced Rum & Cola. Still in the top 10 are surprising things like Captain Morgan Mojito, Archers & Lemonade, Baileys Iced Coffee Latte and Pimm's No 1 Can."
Spar Ormskirk also reports positive sales for RTDs. "RTD cans are improving every year and again gin and vodka are our best-selling RTDs," says Tom. "This year the winner for us is the Gordon's Pink Gin can. It has become our best-seller by far."
Both Draper and Hargreaves also put the rise in RTD sales, at least in part, down to the consumer wanting to be more environmentally friendly.
"Almost three-quarters (73%) of consumers prefer products with environmentally-friendly packaging (IRI European Shopper Insights Survey UK October 2018). Aluminium cans are made from a permanent material and can be infinitely recycled because they don't lose any of the material's inherent quality. This can be another contributing factor towards consumers' preference for RTD cans," says Draper.
Hargreaves adds: "Consumers are undoubtedly conscious of purchasing too much single-use plastic and many producers are moving to 250ml cans to reflect this concern. A decade ago, cans were perceived as being far less premium than bottles, but there is now much more acceptance of cans and cartons as consumers actively seek out more sustainable packaging options."
Polish vodka heads to UK impulse channel
Żubrówka Biała, a premium alcohol brand from Poland, is breaking into the UK market with the introduction of an impulse channel-exclusive clear vodka.
Imported and marketed by Roust, the Biała product comes in 70cl bottles with an rrp of £12.99.
The drink is said to be inspired by the white snows of the Bialowieza region – Europe's last remaining primeval forest – and features an associated label design.
Emma Burns, international brand manager at Żubrówka, says: "When it comes to drinks and cocktails, there is growing consumer demand for new tastes, flavours and freshness, which is driven by a desire for more authentic brands with a connection to nature. Unlike many mass-produced brands, Żubrówka Biała combines history and heritage with outstanding taste.
"Given its smoothness and clear links to nature, Biała is the perfect choice for consumers seeking a premium-tasting base spirit to create a huge range of cocktails.
"We've worked with our distillery in Polmos Bialystok to bring the best Polish vodkas to the UK market.
"We're delighted to be launching Biała at such an exciting time for the spirits category."
Choice is key
Whether consumers prioritise brands, innovation, convenience, or the environment, offering choice ensures that you can cater for all needs and consumption occasions.
"When deciding how to stock the shelves it's important to consider why people find themselves shopping in convenience stores," says Van Nevel. "To cater to the needs of these fleeting customers, store owners should focus on stocking classic big-selling spirits, as well as spirits that are trending and versatile," she says.
"The one thing to keep in mind with merchandising is that c-stores are often small spaces with little surface space, but still a lot of skus. For that reason, the classic tools of grocery merchandising don't work here. Instead, you should consider forms of merchandising that won't take up much space, but which can still maximise impact."
Richard is satisfied that he has all bases covered with a broad range including Imperial Vodka, Captain Morgan's Spiced Rum, Gordon's Pink Gin and Co-op Scotch whisky, as well as more alternative lines and a good choice of RTDs.
"My advice for the entire spirits category is to make sure you have vodka right, pink gin to offer and, most importantly, stock lots of RTD cans," he says.
While Paul Cheema still stocks the big sellers, he implores his fellow retailers to embrace the weird and wonderful. "I've been a retailer for nearly 30 years and for us now it is all about alternative and premiumisation and the overall experience for the shopper. The days of just price are long gone now – the customer is looking for an entire experience."