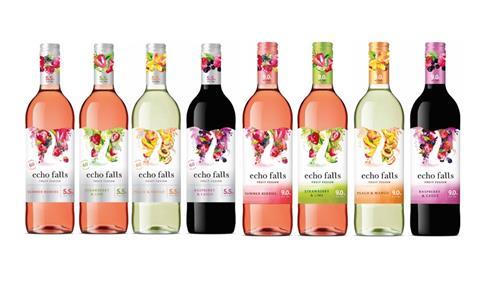 Echo Falls is to launch a brand-new look for its entire Fruit Fusions 5.5% and 9.0% portfolio.
The new look aims to differentiate between the two variants and support shelf standout whilst maintaining simplicity. Fruit Fusions 5.5% will feature a silver capsule colour, whilst the 9.0% offering will vary in colour depending on the flavour. An enlarged ABV call out will be consistent across the entire range to ensure clarity in-store.
Echo Falls Fruit Fusions 5.5% and 9.0% will be available in grocery, convenience, and wholesale with an RRP of £4.25 and £6.00 from August.
Echo Falls assistant brand manager Anne Uva said: "Fruit Fusions has been a huge success since its launch in 2014, allowing us to recruit new shoppers to the category whilst also pleasing our loyal followers. We know from sales and consumer feedback that there is an audience for both ABVs, with the products catering for different needs and occasions.
"The packaging refresh builds on the rebrand from last year but makes it easy to differentiate between the ABV rates when in-store. We're looking forward to working with retailers to ensure they stock the right products for their store, helping to grow the category further and boost their sales."