Cadbury Heroes is adding two consumer favourites to its Heroes mix this April, as well as giving the range a new look.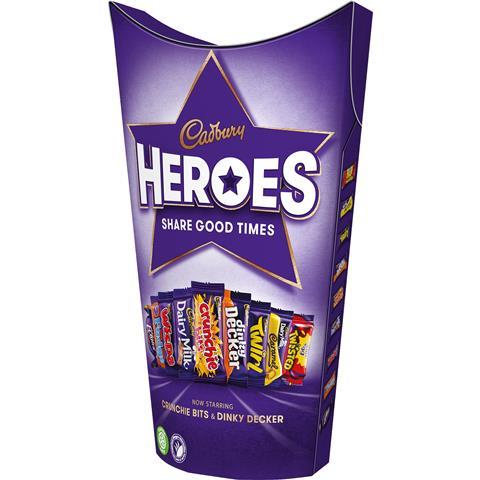 Designed to offer shoppers more variety in the sharing chocolate category, new additions Dinky Decker and Crunchie Bits are available now alongside Twirl, Wispa, Eclair, Fudge, Caramel, Cadbury Dairy Milk Chunk and Creme Egg.
No chocolates have been removed from the existing Cadbury Heroes line-up, taking the total number of variants up to nine. The Hereos range will also sport a new pack design from this month to highlight the change - the first since Wispa was introduced in 2014.
Aislinn Campbell, brand manager for all-year-round gifting at brand owner Mondelēz International, said: "We're really excited to shake up the iconic Cadbury Heroes range with a bold new design and two additions in the form of Dinky Decker and Crunchie Bits.
"We know how well-loved these chocolate bars are already so retailers should expect the new-look range to drive stand-out on shelf and additional sales for retailers within sharing chocolate (Nielsen Answers Total Coverage 17 WE 29.12.18)."
Cadbury Heroes (featuring Dinky Decker and Crunchie Bits) comes in the following eight formats:
800g Premier League Tin (£9.99)
660g Tub (rrp £8.59)
400g Gift Pouch (rrp £6.29)
384g Easter Gift Pouch (rrp £5.69)
290g Box (rrp £4.59)
185g Box (rrp £3.09)
278g Treatsize Large Bag (rrp £3.99)
225g Treatsize Bag (rrp £2.79)