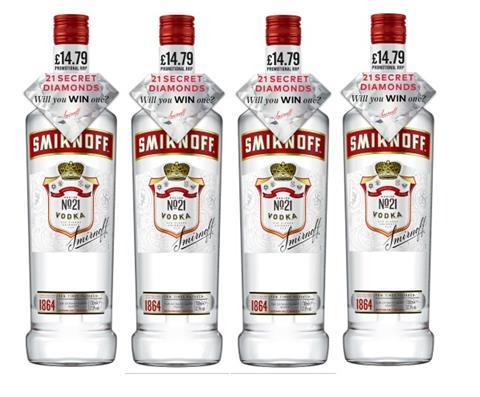 Smirnoff is launching a nationwide promotion offering the chance to win a diamond.
The 'Smirnoff 21 Diamonds' campaign will offer consumers the opportunity to win one of 21 diamonds, worth £4,000 each, through a limited-edition temperature activated bottle or neck collar. Supported with marketing investment, the bottles will be available across grocery, convenience and wholesale in the UK for a limited time only.
Through a freeze and reveal mechanic, shoppers simply have to freeze a limited-edition bottle or neck collar of Smirnoff No.21 where an eight-digit unique code will be revealed. The code must then be entered via the Smirnoff website to see if a diamond has been won.
The Smirnoff 21 Diamonds campaign is supported by an £600,000 media plan including social media, YouTube and a TVC on broadcast video-on-demand, airing from 14 September.
Diageo's head of Smirnoff GB Nick Payman said: "The vodka category is highly-populated and we are always looking for new and innovative ways to stand out from the crowd. Smirnoff strives to disrupt the category and the new campaign demonstrates that Smirnoff is no ordinary vodka. We aim to continue to grow Smirnoff's share within the vodka category.
"Almost a quarter of spirits buyers (23%) are influenced to purchase because the packaging caught their eye – the beautifully designed bottle wrap and neck collar has stand out shelf appeal and aims to entice shoppers to discover the exciting promotion. Our aim is to continue building awareness and grabbing the attention of audiences, we're confident the promotion paired with the packaging will do just that."