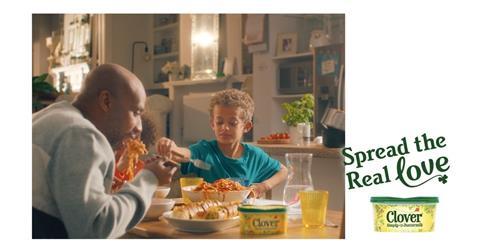 Saputo Dairy UK has launched a new creative campaign for Clover.
Using a heart-warming, emotional creative to hold up a mirror to at-home scenarios that bring real happiness, the campaign encourages Clover parents to break free from today's social pressure to be perfect, and instead simply 'Spread the Real Love'. The campaign creative seeks to 'bust the myth' and contrast the 'artificial' nature of social media bragging with a reassuringly 'imperfect' showcase of real home scenarios.
Now live across social channels, including bumper ads on YouTube, paid and organic activity on Facebook and Instagram and influencer partnerships, the campaign will run until 4 April 2021.
Clover senior brand manager Jamie Carey said: "Social media brings us many positive things, but it's also to blame for sharing unrealistic images of other people's lives. That's why we decided to focus this year's campaign on the simple truth that sits at both the heart of our Clover brand and of a happy home – a focus on the real.
"Made with absolutely no artificial ingredients, 'realness' is inherent to our Clover product truth. At Clover we believe that there's no such thing as a perfect parent or a perfect home – only real ones. We hope that our campaign, showcasing simple acts of genuine love and kindness, without gloss or artifice, will bring families together in solidarity around this."