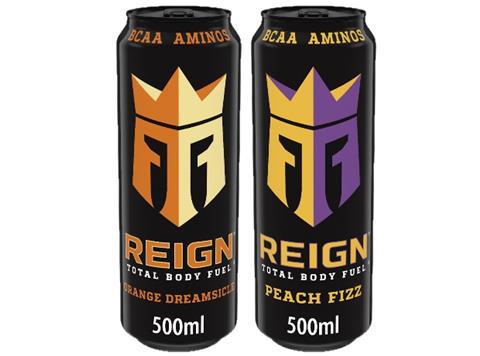 Coca-Cola Europacific Partners (CCEP) has expanded its Reign Total Body Fuel range of performance energy drinks with the launch of two new variants: Peach Fizz and Orange Dreamsicle.
Peach Fizz comprises peach flavours with a hint of citrus fruits, while Orange Dreamsicle is inspired by the frozen treat with orange citrus and vanilla bean flavours.
Available in both plain and £1.49 pricemarked packs, the fruity variants combine performance-enhancing ingredients with 200mg of natural caffeine.
Martin Attock, vice president, commercial development at CCEP GB, said: "Reign has continued to grow over the last year by engaging fitness fans in the home. And now that gyms, functional fitness facilities and boot camps have reopened, there are more occasions to cater for than ever, so this is the perfect time for us to expand our range. Now worth over three times more than its closest competitor [Nielsen MAT Val Total GB WE 270321], we will maintain the momentum behind the Reign brand with a strong marketing programme to engage fitness enthusiasts, drive trial of the new variants and recruit new shoppers into the Reign brand both in store and within leisure facilities when consumers are training."
Engineered to fuel optimum performance during workouts and strength training, the Reign recipe includes branched-chain amino acids (BCAAs), which can help to prevent protein muscle breakdown, and L-Arginine, which improves blood flow and stimulates the release of growth hormones.
It's also enriched with Vitamins B3, B6 and B12, which contribute to reducing fatigue and normalising metabolism. The drinks contain no sugar, calories, artificial colours or flavours.
Reign Total Body Fuel launched just 18 months ago in GB with four variants – Melon Mania, Razzle Berry, Lemon Hdz, Sour Apple – the success of which has seen it grow rapidly to become the number one performance energy drink brand in GB (Nielsen MAT Val Total GB WE 270321), claims CCEP.
The brand is being supported by event and venue sponsorships as well as sponsored digital content and in-store POS materials featuring global and local fitness influencers, including Game of Thrones star Hafþór Júlíus Björnsson aka 'The Mountain' and WWE Superstar and actress Natalie Eva Marie.