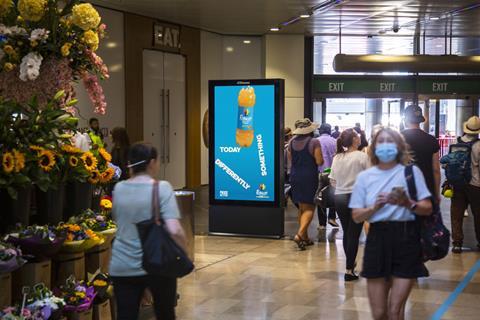 AG Barr is bringing back its No Added Boring campaign for Rubicon as part of a £4m investment in the brand. The campaign will reach 87% of 16-34 years olds seven times, claims the firm.
The TV ad will run for six weeks, starting in August, on national screens, video on demand, Spotify and social platforms with spots in the breaks of the top performing programmes and sports of the summer.
The company is also launching a targeted OOH campaign, that will be personalised based on location and weather.
The activity will also include five-weeks of national sampling and the brand's biggest ever social campaign.
"The No Added Boring ad worked really well for Rubicon last year with 70% of non-drinkers feeling more positive about Rubicon after seeing it in 2020, so we're confident that this year it will perform even better," said marketing director Adrian Troy.
"The campaign invites shoppers to step away from the mundane and try something a lot more interesting. We've looked at all the major touchpoints for our target consumer of 16-35-year-olds, and created a campaign designed to reach them in as many places as possible on their path to purchase.
"We've challenged ourselves to create the most unboring outdoor ads of any soft drink, targeting areas of urban local discovery - think local high streets - where we've all been spending our time of late rather than city centres."
Summer is key to the entire soft drinks market, claimed the company. "From June to August – the crucial period for soft drinks sales – shoppers purchase 15% more soft drinks than any other time of the year, with water, flavoured sparkling water and other flavoured carbonates seeing the most benefit," said Troy.
"By stocking brands that will be driving shoppers to fixture during these key summer months, retailers have a real opportunity to grow their soft drinks sales."
AG Barr has launched a range of vibrant, 'unboring' POS material to create in-store/in-depot theatre and drive incremental sales during the summer period.
Growing at 7.9% annually (Kantar | Total Market |Rubicon Spring | 52 weeks to 13.06.21), Rubicon Spring is the UK's number one flavoured sparkling water brand, claimed Troy, adding that Rubicon grew 33.9% in the last quarter (ibid).