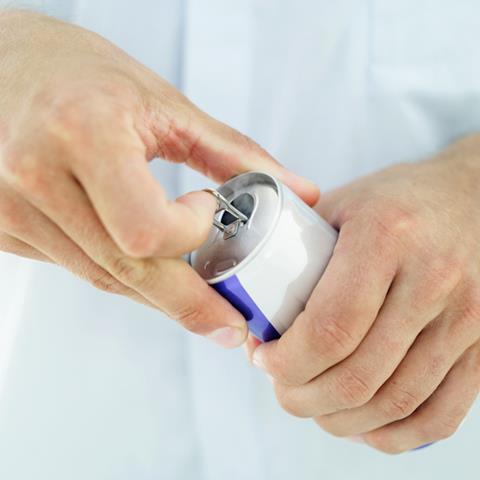 Soft Drinks in convenience ended 2020 worth £2.3bn, down -1.6% in value sales and -7.3% in volume sales (IRI MarketPlace data to 27th December 2020 vs YA), but symbols and independents actually grew sales 6.1%, adding £98.8m and making them the biggest drivers of growth, according to the latest Britvic Soft Drinks Review.
Britvic claimed it was "a tale of two halves" for the convenience channel, with on the go sales sinking -9.2%, while take home, larger formats proved to be outstanding performers, reaching a third of soft drinks sales and growing 19% (+£117.9m).
In terms of segments, stimulants drinks rocketed in 2020, while water and water plus plummeted, according to the Britvic Soft Drinks Review.
"The top five soft drink segments remained as cola, stimulants, fruit carbs, plain water and juice drinks – the former three added £80.3m growth alone – but stimulants was the star contributor by far," said out of home commercial director Phil Sanders.
"As they adjusted to the 'new normal', consumers sought 'pick me ups' and stimulants, the leading soft drinks category in convenience, were well placed to benefit. As the channel's biggest success story, stimulants grew in both take home and on the go, bucking the single serve trend and adding £57.2m in value [IRI Marketplace, Stimulants, Total Convenience, Value, 52 weeks to 27th December 2020 vs YA]. Outgrowing all other soft drinks combined, the segment attracted shoppers to buy more volume per trip at a higher price, performing especially well in symbols and forecourts." The firm claims that Red Bull and Monster Energy led the way in terms of channel growth.
Carbonates and mixers also outperformed soft drinks overall, playing a key role in refreshment and socialising at home. Cola was the largest contributor to carbonates' growth in convenience, adding £20.5m to channel sales (IRI Marketplace, Total Convenience, Total Cola, Value, MAT 27th December 2020 vs Yr Ago). Coke Regular led the way, adding £19m. Britvic claimed that this was at the expense of diet products, such as Diet Coke and Diet Pepsi, which lost a combined -£7.3m. Pepsi MAX, the number one sugar free cola in convenience, grew £7.8m and became the third biggest sub-brand in the convenience market in 2020, overtaking Lucozade Energy (IRI Marketplace).
Traditional mixers were convenience's fastest growing category, up +47.8%, followed by lemonade (+26%) (IRI Marketplace).
Squash was the in-home hydration hero as consumers turned to the tap, accelerating +21.1% (+£8.2m) (IRI Marketplace, Dilutes), stated Britvic. Robinsons was 2020's leading squash brand and biggest growth contributor, through its single concentrate and double concentrate ranges and Fruit Creations, claimed the firm.
Meanwhile, water sales dropped 27% and water plus sales fell 29% (IRI Marketplace), with Highland Springs and Glaceau Smart Water among the biggest fallers. "Plain water and flavoured hydration – such as juice drinks, ice tea and water plus - had a more difficult 2020, traditionally strong in on the go formats and transient channels and locations like high street and travel, both hit hard by the pandemic," said Sanders. Smoothies also took a hit, down 38.8%, while glucose, sport and juice drinks also saw double digit declines.
The Britvic Convenience & Impulse Soft Drinks Review is available to download here.

Sarah is Deputy Editor for conveniencestore.co.uk.