C-Store picks out the key growth areas in what has become a crucial category for convenience retailers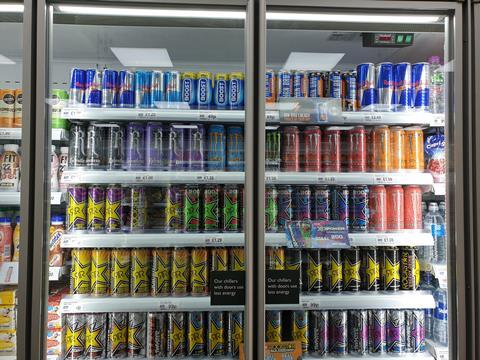 1. Sports and energy drinks are in growth within the impulse channel
"Energy is becoming more fashionable again," states Carabao head of independent and wholesale Mark Tanner. "Unit sales within the sports & energy impulse category are growing at +7% in the last 12 weeks with value sales within the category also growing, at +12.1% over the same period [Nielsen impulse data 27/5/20]. Despite the COVID-19 crisis energy drinks represent a key growing area of the soft drinks category, and as such space in chillers should be prioritised for these products."
Coca-Cola European Partners couldn't agree more. "Energy drinks are particularly important in convenience, in fact they are the no.1 soft drinks segment and worth more than £660m to retailers [Nielsen Energy in Impulse MAT 11/07/2020]," says Amy Burgess, senior trade communications manager at Coca-Cola European Partners. She adds that Monster is a key driver of growth within the convenience channel, up by 15% in value [ Nielsen Energy in Impulse MAT 11/07/2020].
Energy drinks are a strong performer at Premier Linktown Local in Kirkcaldy, Scotland. "I make a good margin on Red Bull, it's a top seller," says owner Faraz Iqbal, who recently reviewed the category. "I looked at the lowest margin and lowest seller and moved it out and made more room for Red Bull."
For Best-one Spencer Court News in Corby, Northamptonshire, energy drinks are buoying soft drinks sales. "The energy category is strong and has kept soft drinks going throughout lockdown," says manager Sarah Darlow Stearn. "Monster, Rockstar, Relentless are our three key sellers. We sell seven cases of Monster green a week. Everybody and anybody is buying them - parents are using them to get through lockdown with children at home; we sell a lot in the morning for workers; and we have a niche market for gamers too."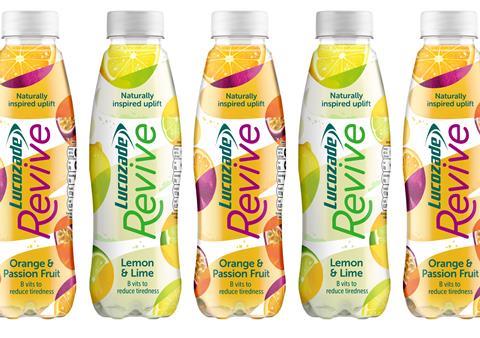 2. The natural energy category continues to grow as non-energy consumers look for a boost
Lucozade is the latest big energy brand to have joined those making 'natural energy' claims with the launch of Lucozade Revive in February. "There are shoppers who don't buy into the energy drinks category - 59% of the UK population - yet are looking for a naturally inspired uplift during their day; the new sub-brand was created to fill these shoppers' needs," says Matt Gouldsmith, channel director, wholesale, Lucozade Ribena Suntory (LRS). The firm claims the drink provides a "naturally inspired uplift" that makes drinkers feel revitalised.
CCEP concurs: "We are starting to see consumers seek products that contain more natural ingredients," says Burgess. "Coca-Cola Energy is ideally positioned to help retailers tap into this, with caffeine from naturally-derived sources, guarana extracts and B vitamins across all variants, available with and without sugar." Coca-Cola Energy is now worth almost £2m in convenience and growing by 106% (Nielsen Total impulse MAT 27/06/2020).
"With natural energy growing at double the rate of the overall category [Kantar, February 2019], this market is in higher demand than ever before," says Mike Simons, head of category at Grenade. Grenade Energy, which boasts natural caffeine, launched at the end of last year.
"People don't just want energy, but natural energy without the sugar crash," says Tenzing founder Huib van Bockel, who claims that sales are "thriving". Over the course of this summer, the brand's value grew +25% (Nielsen 5 weeks to w/e 25 July 2020).
3. Low and no sugar is more important than ever as people make health a priority
Sugar-free variants are taking on a more important role, helping diet stimulation drinks grow ahead of the market, claims Grenade. "With a 25.6% increase in take-home sales over the past three months [Kantar, June 2020] - this puts sugar-free energy drinks in high demand," claims Simons.
Burgess has also noticed a shift. "Health and wellness is front of mind for many consumers [YouGov, May 2020]," she says. "More people are making simple changes such as reducing their sugar intake, meaning a broad selection of low-sugar energy drinks is more important than ever." She states that the zero-sugar Monster Ultra range is number one in the zero sugar energy segment, worth more than £50m in the convenience channel and growing by 21.4% (Nielsen MAT Total Convenience w.e. 27.06.20).
Sarah has noticed customers taking more interest in sugar content. "More and more people seem to be looking at what's in stuff," she says. "Red Bull Sugar Free is one of the slowest moving lines. It can be sat in the shop for months. But Monster Ultra white or blue move really well, we sell about two or three cases a week."
Tanner claims that the desire to buy lower sugar, healthier drinks has "skyrocketed". "Carabao contains 63 calories per can and 60% less sugar than Red Bull, Monster and many others," he adds. "People want an energy drink but they don't want to take on 130 kcals. We're shouting about the calorie content now."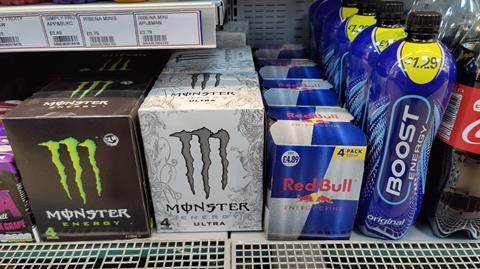 4. Take home formats have boomed over the summer
Take-home sales of energy drinks have rocketed during lockdown. "They grew 19.4% in the last 12 weeks alone, valuing at a staggering £67.1m [Kantar, June 2020]," says Grenade's Simons.
Tenzing's multi-pack value has grown a whopping +354% (Nielsen 12 weeks to w/e 25 July 2020).
CCEP has seen multipack sales soar too. "Our Monster Green and Monster Ultra White take-home four-packs are helping to cater to this demand, and during the core lockdown period grew by 65.5% and 45.7% respectively [Nielsen Value % change 4 week w/e 18.04.2020]," says Burgess.
Boost has also had success with take home formats."In the last couple of months, we've seen an uptake in sales in both multipack and larger formats," says Gray. "Our 1l energy product is now the number one take home energy product and accounts for 60% of the entire take home energy category in independent convenience."
One litre bottles are big business for LRS too. "We've seen strong growth of 18.3% in Lucozade Energy's drink-later portfolio, including 1L bottles and multipacks," says Gouldsmith. "In fact, the top three 1L SKUs represent 21% of the brand's total sales."
Carabao claims that sales of multipack products saw strong growth, with take home sales rising +116% in Symbols and +105% in Convenience Multiples [IRI L12wks to 17.05.20]. "However, despite strong growth 'take home' sales are still a small proportion of total sales, making up only 8% of category sales in Symbols and 2.6% in Convenience Multiples during lockdown, so retailers should be careful not to over-prioritise this format," warns Tanner. "Now that lockdown is easing, there will be a massive pullback on single can sales."
Multipack sales tend to be weather-related at Sarah's store. "We have 4-packs of Monster, Monster Ultra and Red Bull," she says. "A lot of people who buy energy drinks are having several cans a day. If the weather is hot, people pick up a four-pack, but if it's cloudy they'll pick up two singles and refrigerate one."
5. Performance lines are an untapped opportunity
"The performance drinks segment is worth more than $400m in the US and is growing by 41% [Sport England, 22.05.2020 19 Nielsen Total US Convenience Period ending 05/25/2019 TDE Energy], highlighting the untapped potential in this market," claims Burgess. In Great Britain, CCEP says that Reign Total Body Fuel, which boasts performance enhancing BCAAs, is now worth more than £2m in sales and is the top performance energy drink (Nielsen MAT Total Coverage w.e. 16.05.20).
However, Reign has yet to take off at Best-one Spencer Court News. "I didn't realise it was a sports performance drink, I've just shoved it in with energy drinks," says Sarah. "They need to communicate better on packaging because they don't differentiate themselves clearly."
Grenade claims that demand is growing for energy drinks containing BCAAs. "BCAAs are the three most important building blocks of protein and have positive effects such as muscle growth, reduced muscle breakdown and soreness," says Simons. "The desire for them to be easily accessible is increasing, especially with almost half of people making an effort to keep active at home, trying to stay healthy and active."
Van Bockel shares this view. "BCAA is an area within the energy category that has seen significant growth in the last year and with on-the-go occasions increasing, convenience stores, forecourts and other impulse locations should take the opportunity to invest in a natural BCAA option," he says.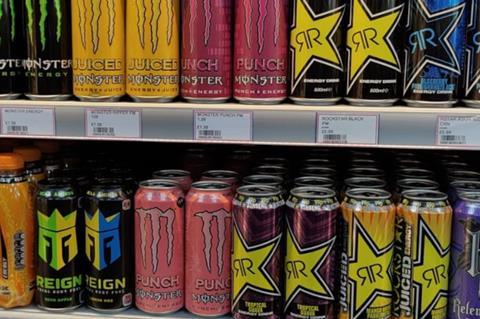 6. Fruit flavours are in growth as consumers seek variety
When it comes to sales growth for energy drinks, data shows that retailers should be prioritising fruit flavours over original flavoured options, argues Carabao. "In convenience stores original flavoured energy drinks are in decline, seeing a -2.3% drop in sales year on year, whereas fruit flavoured energy drinks are up +1.1% [Nielsen Impulse 52wk RSV data to w.e. 02.05.20]. Carabao Energy Drinks are showing +2.5% unit growth in the last 12 weeks to June 27 (Nielsen Impulse unit data).
"New and exciting flavours now make up 34% of the energy market a growth of 6% since this time last year [IRI Marketplace Data Symbols and Independents 52 weeks volume sales to 14th June 2020]," says Boost's Gray.
Red Bull expects the trend will result in strong sales of its summer variant. "With the average soft drink buyer purchasing more than five flavour variants across the last 12 months [Kantar British beverage brand footprint 2020], Red Bull Summer Edition is a must-stock for retailers," says Mark Bell, strategy & planning manager, Red Bull UK..
Flavours are all the rage at Best-one Spencer Court News. "How many people actually like the taste of Red Bull?" asks Sarah. "This is where Rockstar does really well because they do sours and Monster has weird and wonderful flavours like pacific punch."
7. Reduced income means consumer demand for PMPs has grown
New IGD Shopper Vista research shows that shoppers are planning to focus more on saving money in the next 12 months. "This is understandable considering [the research shows] 75% of households report that their income has reduced since the start of the coronavirus outbreak," says Burgess. "With this in mind, and to reassure consumers that they can get the products they want, at an affordable price, PMPs can be a great way for convenience retailers to create a point of difference."
Tanner agrees: "Undoubtedly, consumer attitudes towards pricing have changed throughout the pandemic as financial stability of shoppers has taken a hit during this period," he says. Carabao currently has three pricemarked variants and is launching a pricemarked version of its best selling Mixed Berry flavour later this year.
Pricemarked soft drinks are growing more quickly than non-price-marked packs in the channel, states LRS. "Price-marked packs are seeing 16% growth versus an increase of 6% from non-price-marked packs [IRI SL Data latest 8 week data to 17.05.20 (Total Drink Later change vs. YA)]," says Gouldsmith. Lucozade Energy 1L formats in orange, original, apple & cherry flavours have been reduced to a £1.50 pricemarked pack.