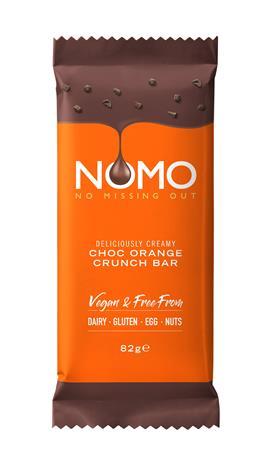 Vegan and free from chocolate brand – has announced the launch of its Choc Orange Crunch bar, which is free from the four major allergens.
The bar (82g, rrp £2) comprises creamy choc flavoured with natural orange and dotted with cocoa nibs, giving it a slightly crunchy texture.
This launch follows a successful year for Nomo, which saw the launch of Buttons and its first kids' product – Nomster lollies. The brand claims that it is bought twice as often as its competitors.
Brand manager Jacqueline Tyrrell said: "We're so proud to be expanding our chocolate range, continuing to grow and meet the needs of vegan and free from consumers. Chocolate orange has always been a firm favourite within the chocolate market, so it was a must for Nomo to bring the flavour to the range. With zingy orange notes and a subtle cocoa nib crunch, our delicious Choc Orange Crunch Bar is sure to delight Nomo fans and entice newcomers to try the brand."