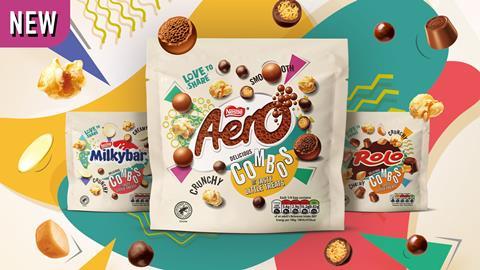 Nestlé is introducing Aero, Rolo and Milkybar Combos (rrp £2.50), which will hit the convenience channel in August after an initial launch at Asda this month. Each pack comprises three sweet variants - a bitesize version of the hero brand, plus two complimentary treats.
Aero Combos (120g) contains Aero bubbles, toffee popcorn and dark chocolate malt balls.
Rolo Combos (125g) contains Little Rolos, toffee popcorn and fudge bites.
Milkybar Combos (110g) contains Milkybar pieces, toffee popcorn and milk chocolate digestive balls.
Brand manager Cat Mews said: "Our new sharing range is all about offering consumers a deliciously different sweet snacking experience. We have taken three of our most popular confectionery brands and elevated them to the next level. Aero, Rolo and Milkybar Combos are mouth-watering mash-ups that deliver a unique mix of tastes and textures."