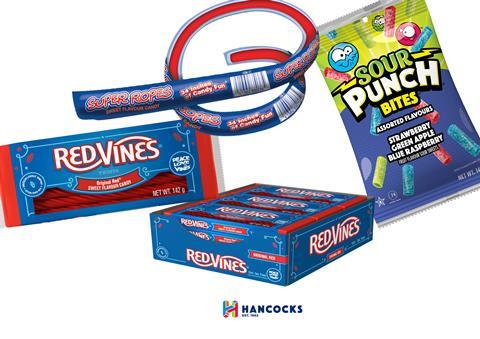 Hancocks' new contract with American Licorice Company will see the wholesaler become the sole UK distributor of Red Vines and Sour Punch candy.
American Licorice Company is one of the original liquorice manufacturers in the US and has been making candy for over a century.
Red Vines, one of their most popular products, has been manufactured since the late 1950s. The fruity flavoured twists have an rrp of £2.50 and are made in California using a small batch process and artisanal techniques.
The Sour Punch range was introduced by the American Licorice Company in 1990. The sour candy, in a thin straw shape, is coated in sour sugar and comes in a variety of flavours. A 128g pack has an rrp of £2.50, while a 57g pack has an rrp of £1.49.
Sour Punch Bites (142g, rrp £2.50) and Sour Punch Mini Bites (57g, rrp £1.49) are also featured in the range in flavours including strawberry, blue raspberry, blue apple, watermelon and cherry.
American Licorice is the latest popular US brand to be brought over to the UK by Hancocks.
Helen Bradshaw, the director of marketing and sales for Hancocks said: "We've seen American candy grow in popularity recently so to be able to secure exclusive distribution in the UK for The American Licorice Company is wonderful news for us and our customers.
"This is a big brand for us to be aligned with and we're excited to bring their tasty candy over to the UK for retailers to discover and their customers to enjoy.
"For the independent retailer, this really offers them the chance to introduce something new and exciting to their store and remain ahead of the competition."