Retailers reckon that strong pricing, key brands and sustainable options are the answer to success in household cleaning and paper products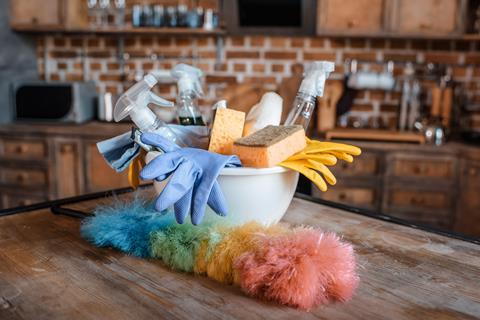 Hear that huge collective sigh? That's your customers realising that it's nearly time for their annual big spring clean. Of course, for some people (especially families with small kids) life can feel like one long cleaning blitz.
According to Mintel, 82% of parents of children under 18 feel like cleaning their homes is a never-ending task (Mintel 2019). Others (many under the spell of uber-cool online cleaning influencers such as Mrs Hinch) are more perky about donning the rubber gloves and pushing the hoover around. The same report says that 65% of people claim that they generally enjoy cleaning (Mintel 2019) – although if pollsters knocked on their door on Saturday morning, they might find otherwise.
Yet whether your customers consider it a chore or a joy – where there's muck there's brass. That weekend dash for some toilet cleaner, or dishwasher tabs, can mean c-stores make a clean sweep in this in-demand category.
"Household cleaning products are heavily purchased on a top-up mission (that's just under 85% of shoppers)," says Alice Dolling, senior analyst at HIM.
"[It's] made up of about a quarter distress buys and three-quarters planned," she adds.
So exactly what do these modern day Mr and Mrs Mops want from the cleaning category in your c-store?
Brands might tell you it's all about superior cleaning power, ease-of-use and cool scents. But ask the customers and one key driver comes through loud and clear: price.
"These shoppers are more than seven times more likely to choose a store based on cheap prices and also seven times more likely to choose a store due to value for money," continues Dolling.
"These will be important factors to get right in the category – product price tops purchase decision hierarchy for the category by some margin."
It's a crystal clear message that's definitely not lost on Navin Soni (aka 'Micky') from Thrifty's in Merseyside. He approaches the household category like any other in his stores. And as the bold store name suggests, the strategy's all about piling products high and selling them cheap.
"I think with household there's such a big opportunity out there, because other people don't do it very well," he says.
"As a whole, it doesn't really get the attention it needs from retailers. I think that it's there to be exploited. I know that most c-stores don't have much space – it's at a premium where they are. But it's all about having the right products in cleaning and knowing how to sell them. If you get it right then household definitely has the potential to sell well."
On the price point
Micky has one full aisle in his stores wholly dedicated to household cleaning. So how does he keep the prices so cheap?
He says that he stays one step ahead by getting the exclusive brands that other c-stores can't get ("or they just don't want to go the extra mile to get them!"). The central price points for him in the category are £1, and two for £1.
"Because I've got a bit of a wholesaling background, I have that knowledge to get deals in household," he points out.
"Plus, it's getting out and about a bit and seeing what other stores in the area are doing, too. We'll often have a look at B&Ms and see what they've got on offer, then see if we can do something better. I think we do really well with cleaning and pets across our stores. To be honest, it's something that others ignore."
Fabulosa, darling
Didn't think that cleaning could be cool? Aspirational disinfectant, spray and foam brand Fabulosa has won exposure from key cleaning influencers Mrs Hinch and Lauracleanaholic. The range even includes a trendy Unicorn Dust fragrance.
Meanwhile, over in her Premier store in Orpington, Kent, manager Anita Nye acknowledges that price matters to her customers, too. But she reckons that it's not everything. Getting the mix balanced between well-known brands and cheery own-label products helps keep her selection sparkling in-store.
"Obviously we always try to get pricemarked stuff because it does very well, and we also do the Happy Shopper brands which people like as they represent value for money," she says.
"But on the other hand the pound shops do all the same kind of products and we can't compete with them on price. We have a different offer. For us it's more about the last-minute purchases where price isn't so important. It's people who run out of something for their cleaning and then pop in to grab it."
Anita says that as well as the all-important fair price point, the allure of big brands still matters to people, too. One of her store's best-sellers that blends both is Flash at £1.59 pricemarked pack, plus she also does Mr Muscle at a keen £1.99.
"I think it's true that in general people stick to what they know, because with a well-known brand people think it's going to work a lot better."
Okay, so to recap: cracking consumers' cleaning cupboards means balancing price, brands and availability. Yet there's another factor that continues to creep into shoppers' decision-making process that's becoming increasingly difficult to ignore.
Remember those cleaning-crazed parents we talked about earlier in the feature? They will no doubt have kids who're learning about climate change at school. And those kids are definitely going to be pushing for the household to become more eco-friendly, starting with the family shopping list.
The big players in household cleaning are certainly taking notice of this eco-trend. Last year Unilever launched new eco-friendly bottles for Comfort Intense fabric conditioner – harnessing smaller, more concentrated formats. It also craftily acquired US eco-cleaning brand Seventh Generation. It's testing the waters online with Ocado, and if the brand proves a success it may eventually feed into mainstream c-stores.
Eco credentials
With all this noise about cleaning's planet-depleting properties, for the right store then taking a deep-dive into eco-cleaning could pay dividends. For example, Karen Evans from Cletwr Shop in Machynlleth, Mid Wales, says that her Ecoleaf products are a hit with her eco-conscious customers.
The Ecoleaf range includes: fabric conditioner, laundry liquid, washing-up liquid, dishwasher tablets, toilet cleaner, stain remover and multi-surface cleaner. All products are certified animal-cruelty free and carry the Vegan Society logo. Ecoleaf is normally considered a bit of a hard-core health store brand, but it definitely works for her.
"With the eco-brands I think that there's still a perception that they don't work as well as mainstream cleaning products," she says.
"But that's just not true of products such as the washing-up liquid. It's just as good as anything else, and it doesn't do any damage to the environment when it goes down the drain."
There are basically two positive drivers around eco-friendly cleaning: ending damage to marine life; and cutting down on waste. The product formulations do the first. Then Karen addresses the second in-store by having a busy refill station where people can fill up their containers rather than having to throw them away.
This might sound like hard work, yet her customers are positive about the move.
"I think that our customers really love it," says Karen. "I believe that people across the board are more conscious about waste and they want to do something practical about it. That starts with what they choose to buy.
"They're also starting to get more sophisticated about how they think of waste. They're realising that just because the packaging is 'recyclable' doesn't mean that it's actually getting properly recycled when it's thrown out."
Refill value
If passing customers like the idea and have forgotten their containers, Karen has an answer. She says that the store's café can provide (properly washed and cleaned) containers for shoppers to re-use, so cutting refuse across the board.
"I think there's the potential for this to work at larger convenience stores than us," she says.
"It also ties into customers who want value for money. They like to buy in bulk because it's cheaper as well as saving waste. And washing-up liquid is something that people can go through a lot of."
Okay – but what about the other kind of waste? Anyone with a self-serve fixture will know that, however clean they are at home, customers can lay waste to stores with spills and mis-pours.
"Waste can be a bit of a problem with refills," admits Karen. "So what we do is have a volunteer who can help do the refills for customers. That's helpful for the customers and it means that we don't get any mess.
"It's actually quite easy to do with household cleaning. We've thought about doing self-serve for products like loose food too [to cut down on packaging]. But then you've got to worry about mixing food with different dates and things like that."
Sparkling selection
If entering the refill arena still strikes fear into your heart, then no problem. There's still a whole armoury of products out there to fill out your cleaning shelves. In fact, with so many different variants it can be difficult to get your edit correct without missing opportunities.
Despite this, Stuart Cordner from Cordners Comber Road in Dundonald, Belfast, goes for the maximalist approach to please his customers in household cleaning.
"We take the approach that customers should be able to find what they need in our store when it comes to cleaning products – it basically needs to be convenient for them," he says.
"So we don't just look at the core liquids and things like that. It's also about the things that go around that too, so sponges, cloths and items that customers can use to clean. If shoppers are coming in for one they're likely to want the other too."
If you've got the space in-store (and the demographic) that strategy makes sense. However, Anita says that she's actually made her offer better by cutting down on the cleaning products she has on the shop floor to add more focus to the category.
"We've actually just shrunk down what we do on household cleaning," says Anita.
"What we've found is that there were just too many repeats on there. Now it's more the top-sellers and what customers want: a mix of own-brand and brands. Everything from furniture polish to air fresheners and the wipes – because some people just don't like using cloths."
Cloth, wipe, or whatever – cleaning is as inevitable as death and taxes. And that makes it a c-store must-stock. Because if the 73% of parents with a weekly cleaning routine can rely on you to deliver when supplies dry up (Mintel 2019)then you can swoop in and mop up this spring clean season.
Talking scents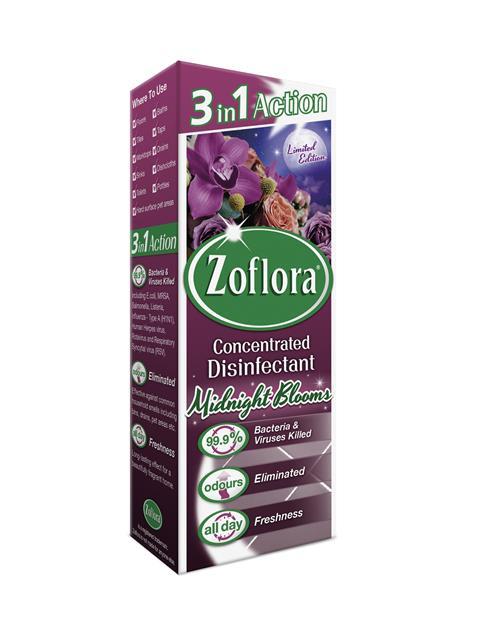 Fragrance matters. That's the message from the 60% of parents who reckon that sweet-scented products make everyday cleaning more enjoyable (Mintel 2019).
Fragrance is certainly key to Zoflora's success. The brand has kicked off 2020 by launching new scent Midnight Blooms (further releases are also due to mark spring cleaning season). The launches will be bolstered by a media blitz.
"2020 will see the launch of a heavyweight multimedia campaign including national TV, driving mass awareness of our much-loved brand targeting growth in usage of an additional two million households to an already existing four million," says Sarah Fozzard, head of marketing for Home Hygiene at Thornton & Ross.
"In addition, the brand will be more active than ever with contemporary limited-edition fragrance launches, major consumer events, impactful POS and upscaling of our influencer and social media programmes."
Independent retailer data (Kantar Worldpanel 52 weeks ending 29 December 2019) shows that not only is Zoflora growing exponentially, it is also the main driver of growth within the toilet cleaning category (up 86%) and a significant footfall driver, with the brand gaining considerably younger shoppers than the category average, as well as attracting shoppers from more affluent categories.
Washing up without the plastic predicament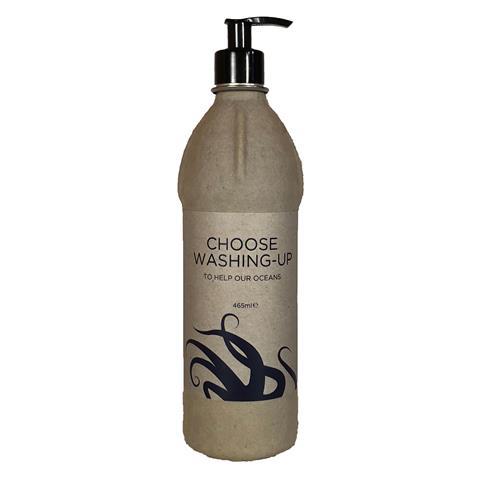 Consumers' eco-concern isn't waning and nor is their need for household cleaning products packaged in a convenient carry-home format. That creates a pressing problem awaiting a smart solution without plastic. And it's one that 28-year-old eco-entrepreneur James Longcroft is eager to solve.
You might remember him as the brains behind Choose Water's first-ever totally biodegradable water bottle. Now he's pivoting the company (today called just 'Choose') around PET bottle replacements that can be used for everyday essentials such as washing-up liquid, shampoo and more.
"While we were developing our biodegradable water bottle, we realised that it worked for so much more than just water," he says. "We are really happy to announce that our bottle is ready and we are launching a completely biodegradable washing-up liquid to replace the 260 million plastic bottles the UK goes through each year," he comments.
The washing-up liquid is pH neutral and doesn't harm aquatic life, and is vegan-friendly.
Attachable pumps are also available, which can be removed when a bottle is finished and re-used on a new bottle. Rrp is £8.99 for three bottles.
Greener cleaning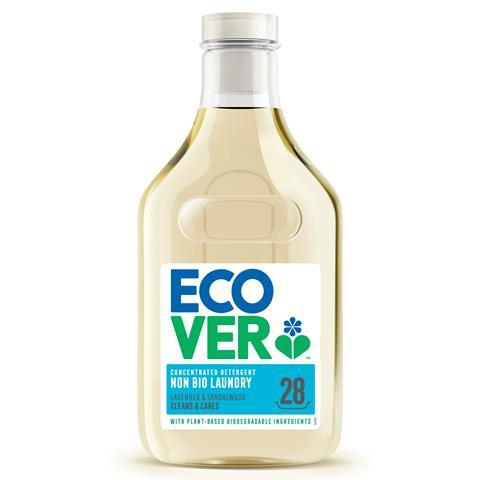 Brands used to bet on the fact that consumers would put their eco-worries aside when buying on impulse: choosing convenience over conservation. But thanks to the effects of Blue Planet, Greta Thunberg and Extinction Rebellion, planet-positive products are a must for c-stores too.
"Consumers will of course want all basic cleaning usage occasions covered by the offering in a c-store," says Ecover brand manager Charlotte Snelgrove. "[But] they are also becoming more conscious of the amount of plastic they are buying and so brands and retailers are coming under scrutiny when it comes to their packaging and business practises."
A health-store stalwart turned mainstream success, Ecover has always had the edge on eco claims. And now it offers 100% recycled packaging across its laundry range and washing-up liquids (rolling out across all products by the end of 2020).
The brand is also using smaller pack formats to gain ground with space-starved c-stores.
"Ecover has several smaller format products such as our slimmer laundry non-bio (1ltr) which has a concentrated formula offering 28 washes, delicate (750ml) and washing up liquid (450ml) – the slim designs mean that our bottles use space more efficiently," says Snelgrove. "Our dish-tabs also come in a recyclable cardboard box that is much smaller than the more common plastic pouches."