Multibuys and round pound price points are ensuring chocolate consumers get value for money across a multitude of pack formats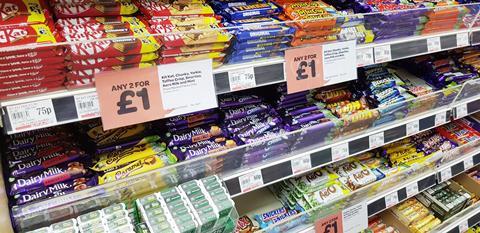 Confectionery is the fourth biggest category within independent stores (The Retail Data Partnership 2019) so it's no surprise that retailers have plenty to say on the topic.
"Confectionery is really, really big for us," says Sarah Darlow Stearn, manager at Best-one Spencer Court News in Corby, Northamptonshire.
McColl's Sandbach deputy manager Tony Jones is equally enthusiastic. "Chocolate is a big seller for us and sales are up year on year," says the Cheshire retailer.
"Chocolate does really well at this time of year, our sales are up 11% year on year," notes Meten Lakhani, who owns St Mary's Supermarket in Southampton.
Larger sharing formats continue to drive growth, but countlines remain central to the category and c-stores have used the versatility they are renowned for to make the segment work for them with a strong value proposition centred around multibuys.
Multibuys on countlines are driving plenty of sales at Best-one Spencer Court News. "A lot of the countlines are pricemarked at 55p and then promoted at two for £1," says Sarah. "Even some of the non-pricemarked stuff is on at two for a pound through Bestway."
Countline bars are regularly on multibuys at McColl's Sandbach where chocolate is displayed on an aisle by the side of the till. "Countlines still sell well, a lot go to school kids," says Tony. "It's normally two for a set price." Mars, Snickers, Wispa and Twirl are all performing well.
At St Mary's Supermarket 90% of countlines are bought on multibuy. "My bestsellers are KitKat four-finger, Mars, Snickers, Wispa, Cadbury Dairy Milk (CDM), Oreo and Bounty," says Meten.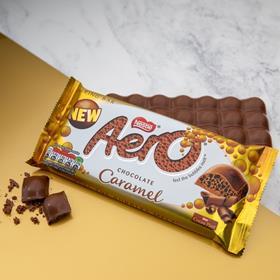 Nestlé has extended its Aero brand with a caramel variant. The 100g sharing bar (rrp £1) is made with cocoa responsibly sourced under the Nestlé Cocoa Plan. Aero was first launched in 1935 as a peppermint-flavoured chocolate bar.
Countlines are currently part of a five-metre run under the counter, but Meten concedes that they are a key target for shoplifters. "My wife wants to put countlines outside the counter in the main shelving area [to deter shoplifters], but I like it at the counter as it's an impulse buy. She wants to put hanging bags there instead [to reduce theft]. You do get theft with countlines because they're quite expensive; hanging bags are harder to steal."
Meten runs two types of multibuys on countlines. "We have our countline range on two for £1 on Mars, Snickers and Twix, and we have a three for £1 range as well. At the moment we have KitKat, Lion, Bounty, Toffee Crisp, Galaxy Dark – whatever we get in a clearance deal from the cash & carry. We're not trying to make people fat – we're just saving them money!"
He claims that just 10% of countline sales are single bar purchases. "Everyone else buys multibuys," he says. Meten states that he felt he had to promote these lines in order to remain competitive. "Over the past two years our single bar sales were dropping – a single CDM or Mars Bar is about 75p, quite expensive. I'd be put off as a customer. Bars are getting smaller as well so customers are out for value for money.
"Discount stores are cutting our throats, but we have to look reasonable. In a half-mile radius we have two pound stores, and a Tesco Express. Although they're in the town centre, they're still within walking distance. We have had to adapt to stay in the market."
Value for money is also vital to larger pack formats where the continued popularity of Big Night In has seen sharing bags grow in value to £1.1bn (Nielsen, Total Coverage, Value, MAT w/e 2 June 2017).
When it comes to hanging bags, £1 is the magic number at many c-stores. Cadbury Buttons, Wispa Bites and Minstrels are all big hitters at McColl's Sandbach. "Anything on offer does well," says Tony. "They all go down to £1 and sell like crazy." He claims that customers see them as better value than countlines: "You get more in a bag than a single bar."
The bagged offering at Best-one Spencer Court News also boasts numerous £1 PMPs. Sarah's range comprises a host of big names, including top-selling CDM Giant Buttons, and relative newcomers Bournville Giant Buttons and Maltesers Buttons. But she may well have to make room for more chocolate discs this year. The humble button is the choice format for a number of key launches in 2020.
Maltesers Buttons burst onto the scene in 2018, and has generated £19.3m in value sales (Nielsen Scantrack Data, MAT to 29 December 2018).
Mars Wrigley UK claims that the launch recruited more millennial shoppers to the brand, which helped it to reach its highest ever penetration of 61.9% (Kantar Worldpanel TH, Total Chocolate, 52 w/e data to 16 June 2019).
Senior brand manager Laura Boothroyd says: "Over the past three years we've seen the great success of Maltesers Buttons, with more than five million households purchasing Buttons, and over two million then repeat purchasing (Nielsen Scan Track FY 2018)."
The firm is now releasing mint Maltesers Buttons, claiming that mint flavour products have rapidly grown, up 34% over the past 12 months (Nielsen Homescan data to w/e 27 April 2019). The launch will be backed by a £600,000 ad campaign, including social media activity and out-of-home advertising. Products are available in single (32g, rrp 66p), treat bag (68g, rrp £1.19), treat bag extra-free (85g, rrp £1.19), and pouch (102g, rrp £2.09) formats.
But Maltesers isn't the only household name hoping to boost sales with buttons. Nestlé launched milk and white chocolate Smarties Buttons in the convenience sector in January. Containing mini Smarties, the products are available in single bags (rrp 65p) and sharing bags (rrp of £1.59).
Mondelez has also extended its Buttons offering. With Cadbury Bournville Giant Buttons already worth over £5m, the firm has now added Cadbury Darkmilk Giant Buttons to its portfolio. The chocolates are available in a 105g bag (rrp £1.99) and a 90g bag retailing at £1 (pricemarked pack available).
Brand manager Pippa Rodgers says: "We know that Cadbury Darkmilk has been a tremendous success with shoppers over 45 years old. This demographic under-indexes in sharing bags, and by bringing a brand they love to them in a format that is loved by shoppers, we are confident we can help retailers drive sales."
The firm has also released a new Darkmilk tablet. The tablet segment is growing by a significant 6.3% (Nielsen Total Coverage YTD, 23 February 2019), highlighting the shopper demand for this format, claims Mondelez.
When it comes to optimum pricing for tablets, £1 pricemarked packs (PMPs) appear to be a universal winner.
"The £1 tablets always do well," says Ronak Patel of Budgens Arbury in Cambridgeshire. He further drives sales by offering multibuy deals, such as two for £1.75 on 93g-120g Cadbury lines.
Meten agrees that £1 tablets are strong, though he doesn't see the need for further promotions. "We tend not to run promotions on tablets. They've got a £1 flash so they'll sell anyway. We stock Cadbury, Galaxy and Milkybar £1 pricemarked bars. I prefer to buy them pricemarked because they sell better and the margin is still 23-24%."
Sarah is also in favour of £1 pricemarked tablets. The store stocks a large range, all highlighted in a purple Cadbury display, which positions packs so that they are facing forwards. The range comprises Nestlé Crunch, Milkybar, Bestway own-brand white chocolate, two Galaxy lines, three Aero lines, Cadbury Bournville and nine CDM lines, the majority of which carry a £1 flash. "Generally if people see a pricemarked pack they know they aren't getting ripped off."
Meanwhile, Ronak also uses the round pound to offer his customers value on multipacks, including Twirl, Wispa, Crunchie and Flake. These are located on the shelf above his countlines. "It does cannibalise on our countlines, but I'd rather have a satisfied customer who knows they can get this day in and day out at that price," he says. "People on the go at lunch tend to buy the countlines, whereas people doing a weekly shop who have one or two kids buy the multipacks."
Top end
At the other end of the spectrum, a move towards more premium products is having a positive impact across the board, states Ferrero.
"When looking at boxed chocolates alone, premium options are growing at 15.4%, more than five times the rate of the category overall (up 2.7%) (Nielsen MAT 31 August 2019 vs previous 52 weeks)," says customer development director Levi Boorer. "Shoppers are looking for quality over quantity when it comes to confectionery."
Larger, classic products – such as Ferrero Rocher T24 – over-index with shoppers around traditional events and when seeking a gift for a partner or family member, while smaller boxes – including Rocher T16 – have greater appeal for birthdays or small gestures throughout the year, claims the firm.
Tony stocks both formats year-round. "We do Ferrero 16 and 24 boxes all year round and the 15 Collection box," he says.
He also stocks Lindor Balls from Swiss chocolatier Lindt. "Lindor Balls do well in original and assortment, but the mint not so much," he says.
Meten has also seen success with premium chocolate. "We do Lindt sharing bars – the black and blue variants – and Lindor Balls. They sell well all year round. We sell the small boxes for £4."
Heathy options
Another megatrend within the convenience channel is health. But does chocolate have a role to play in healthier lifestyle choices?
Nestlé has chosen to drop its reduced-sugar Milkybar Wowsomes brand less than two years after launch, which implies that the answer is perhaps not. It is claimed that Wowsomes, which restructured to create white chocolate with 30% less sugar than Milkybar, struggled to sustain distribution.
However, Mondelez remains confident that there is a market for better-for-you chocolate. "Over a third of consumers are actively cutting down their sugar consumption, making reducing sugar one of the biggest priorities for shoppers," says Susan Nash, trade communications manager at Mondelez International. The firm has spent years developing lower-sugar recipes and launched a 30% reduced sugar CDM bar in countline and tablet formats last year.
Unfortunately for Meten, the reduced sugar CDM bar wasn't a hit at his store. "The 30% reduced sugar CDM bar didn't go well," he says. "They want to be careful not to issue too many lines in that variety."
Other retailers are more optimistic, however. Tony observes that many of his customers are on the lookout for healthier snacks. "We're waiting for a refit so hopefully after that we'll get CDM reduced sugar."
Avtar Sidhu (aka Sid), who owns St John's Budgens in Kenilworth, Warwickshire, believes Cadbury has "hit the nail on the head" with the healthier variant.
"The sugar agenda is playing a bigger role within people's lifestyles and the relevancy of this will just grow," he says. "You have to do what the customer is looking for. Rather than playing catch-up we need to take the lead [on reduced sugar]. You need to make customers aware you are stocking these products and you will see the benefit. It's our social responsibility to encourage the next generation to buy lower sugar products."
Bestsellers should, of course, always form the backbone of your range, but if you can afford to go beyond the core offer, then healthier options could be worth your consideration.
One Stop Leamington Spa retailer Sunder Sandher has given better-for-you chocolate his backing. "Everybody is health conscious at the moment – why would you not have these products in store?" he asks.
Welcome to the dark side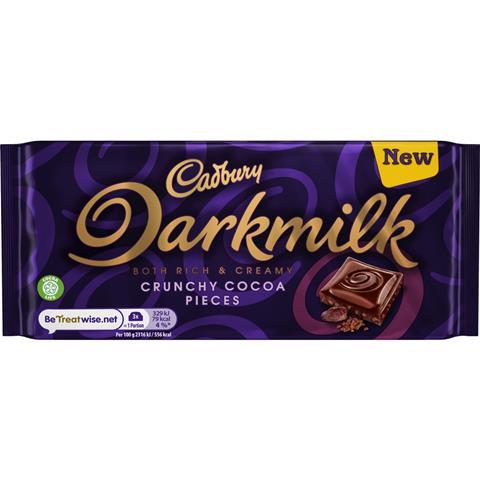 Mondelez is releasing a Darkmilk tablet featuring cocoa nibs (85g, rrp £1.50). Cadbury Darkmilk was the biggest confectionery launch of 2019 (Nielsen and KWPO), with a repeat purchase rate of 27.5% (KWPO).
The brand is already worth £13.3m (Nielsen and KWPO 2019) and a significant 18% of sales of Darkmilk were incremental to the block chocolate category, notes Mondelez.
The new chocolate bar combines Cadbury Darkmilk with crunchy cocoa nibs for added texture and an intense cocoa hit.
"Shoppers tell us that they are looking for intense, rich and chocolatey flavours as they unwind in the evening, and that they are looking for foods with added values or benefits as they indulge," says brand manager Pippa Rodgers. "By adding cocoa nibs to Cadbury Darkmilk chocolate, we are giving shoppers exactly that.
"Dark chocolate accounts for 6% of total chocolate sales, and sales are growing at 16% – which is 6% ahead of milk chocolate (Nielsen data MAT to w/e 28 December 2019)."
The brand will be supported by two bursts of advertising across April and October this year, supporting both its new buttons and tablet.
The campaign will include PR, TV and out-of-home advertising, as well as in-store support for retailers. There will also be strong sampling activity and a social media influencer campaign.
Best of British in chocolate form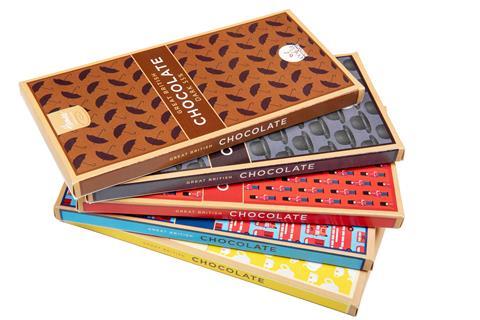 There are a number of trends shaping the chocolate category, including the trend for British and sustainably produced products, as well as provenance, according to Hames Chocolates.
"The appetite for British-made products is at an all-time high, with consumers looking to reduce food miles and support British producers," says director Carol Oldbury.
"Brands should look to call out a product's Britishness on pack wherever possible to ensure that consumers know the product has been created locally and with the British palate in mind."
The company has recently created a Great British Chocolate range, which embraces its Britishness by splashing archetypal British icons on its packaging, including a red double decker bus, white tea pot, black umbrella and a black bowler hat.
The bars have been created especially for British consumers, with their preference for a light caramel taste and creamy mouthfeel.
"A product's provenance, or back-story, is hugely important to shoppers, as they want to know more about the food they are eating and where it comes from," she continues. "Our new Great British Chocolate range was made with milk from cows who graze in British meadows and was made in our chocolate factory in Lincolnshire."
The range consists of a milk, white, 55% dark, dark milk and 71% dark chocolate bar and comes in two sizes (94g and 65g).
The Great British Chocolate 65g bars and 94g bars are both packed in outers of 15 and have an rrp of £2 and £2.25 respectively.
Give us a Twirl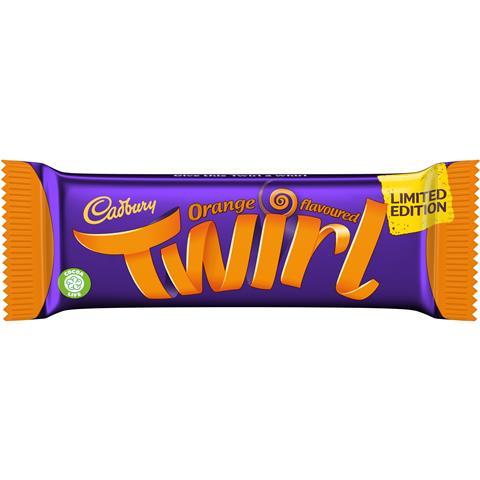 Chocolate has always been an exciting category, but in September last year Cadbury took things to the next level with limited-edition Twirl orange, which resulted in a media frenzy both on social networks and in the national press.
Despite many retailers struggling to source the elusive bars, the general consensus is that limited edition chocolate is a great way to engage customers.
Tony Jones of McColl's Sandbach in Cheshire is a big fan. "We managed to get four boxes of Twirl orange and it went within half-an-hour," he says. "We tried to get more, but the warehouse had run out. Anything new that comes in is really good."
Sarah Darlow Stearn, manager at Best-one Spencer Court News in Corby, Northamptonshire, agrees. "Limited-edition lines are really good," she says. "With orange Twirl, a box was gone in an hour. It was limited supply and we only had three boxes in store."
One retailer who worked the launch to his advantage was Mandeep Singh, owner of Singh's Premier in Sheffield. In addition to boxes provided by Booker, Mandeep and his staff took to the road to source extra stock from other cash and carries. "We were buying, buying, buying," says Mandeep. "We were sitting in stock, but then demand went critical. We used social media to sell it. We must have done nearly 900. We had customers from Doncaster, Barnsley, Chesterfield and Wakefield."