This autumn, Big Fish is launching a trio of signature fish products offering retailers a more premium option for stocking sea trout and smoked salmon.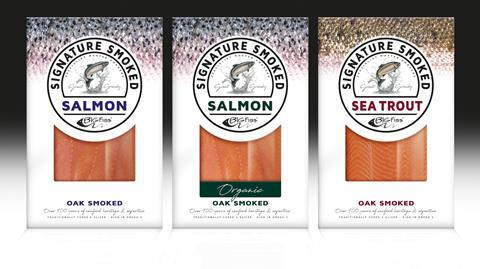 The range consists of the following lines: Oak Smoked Salmon; Oak Smoked Organic Salmon; and Oak Smoked Sea Trout, prepared using whole sides of fish which are cured by hand with natural salt.
The new products are slowly smoked in a traditional kiln for an extended time with oak and other natural flavourings, creating smoked fish with a different character and taste.
Andrew Coulbeck, co-founder and md at brand owner JCS Fish, said: "Smoked fish has long been part of our family heritage, but we only recently decided to bring it in-house again to give us the control and flexibility we were looking for. Signature is the result of our desire to create the most perfectly smoked products we could in our own Grimsby smokehouse."
The Big Fish signature range is available in selected independent retailers across the UK. The Smoked Salmon and Smoked Sea Trout carries an rrp of £5.90 while the Organic Smoked Salmon is rrp £7.95 (All products are sold in 100g packs).