It may be like no summer we've had before, but when the sun shines cider drinkers will still want to relax with their favourite tipple, and many will make a bee-line for c-stores to find it.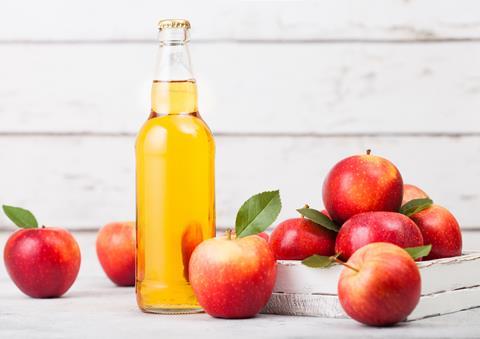 What a difference a month makes. Back at the beginning of March your customers would have been looking forward to digging out their flip-flops and heading out to barbecues, festivals or the local park for some sun-dappled fun.
Flash-forward to now and those summer diversions feel like they belong to a different era. Self-isolation means people's holiday horizons have suddenly shrunk down to four walls, while they focus on getting in everyday essentials rather than treats.
Right now, everyone is feeling the pain in some way. And that includes the big cider brands who are usually looking forward to bumper sales.
"If we'd have talked about a month ago we'd have been happily discussing the Euros and the lovely sunny summer ahead," says Thatchers sales director Chris Milton.
"To a degree it's fair to say that those [summer days] still apply. But the opportunities have somewhat changed around cider for convenience retailers over the past few weeks."
They most certainly have. The big irony is that no drink is more closely associated with sunshine in consumers' minds than cider. So in normal circumstances (remember those?) this would have been around the sweet spot sales heated up.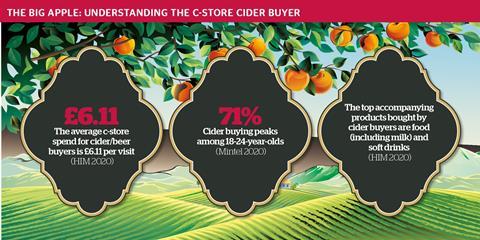 As Mintel reports, cider sales are largely dependent on the Great British weather. Take 2018, the year we saw record cider sipping to match a super-warm summer buoyed by plenty of headline sport.
But that was then. Compared with those hazy days, summer 2020 will probably be a more sober prospect. With the Euros off the table, and fewer drinking occasions as people stay indoors to isolate, retailers need to think differently around alcohol.
Yet there's still going to be room for cider sales in-store. Even if some of them may feel as bitter-sweet as the craftier varieties of the drink.
"It's really sad that the whole of the UK's pub industry has basically had to shut for the moment," says Milton.
"We have a pub that we've had to shut too. But, not putting too fine a point on it, there's almost £4bn worth of annual spend that's not going to go to restaurants or casual dining in particular. C-stores have to be ready to capture that in the short-term."
Milton is clear that the brand thinks in terms of 'people' first. So he's not advocating that c-stores win big while others lose. After all, lost sales are no good for the overall economy
So, with an 'all in it together' spirit, Thatchers is busy re-filling c-store chillers fast after a period of panic-buying by spooked shoppers.
"We've all been working hard at Thatchers to ensure that we have sufficient stocks of cider to meet demand for our customers," he says.
"We appreciate this is a very difficult time for everyone and are doing everything we can to support our friends, colleagues and associates in stores up and down the country. And as a family-run company in the heart of a close-knit community, we're working together with our neighbours to ensure those in need are looked after."
So far coronavirus has sadly put paid to Glastonbury, the National Convenience Show (rescheduled for 7-9 September 2020) and many kids' parties. But one thing that the virus can't cancel is the summer.
It's important to remember that the warmer days will still happen. That means everyday shoppers will still want cider for a self-isolating Friday/Saturday night, even if it's to sip outside in the garden, or inside with friends virtually on Houseparty.
Crafting the category
Mintel is convinced that craft and low- and no alcohol ciders offer room for growth. "Promoting craft-style cues such as authenticity, heritage and high juice content may help cider to retain interest among drinkers looking for quality over quantity," says senior food and drink analyst Richard Caines. "Meanwhile, lower- and non-alcoholic variants have made strong inroads in the beer market and may provide more opportunities for cider brands in the coming years."
What's more, these shoppers are most likely to rely on the convenience channel to get it. Research shows that convenience accounts for just over 50% of total cider value and 48% of cider volume sales (Westons 2020 Cider Report). That's an impressive overall share right there.
This is especially good news since the wider cider market is in decline. Yet the report says that convenience stores have been less affected by this drop in demand than the mults.
It claims that convenience multiples (including Co-op, Tesco Express and so on) have seen the smallest year on year decline at 5.4%. By comparison it is supermarkets who have suffered the most with a 10.5% drop in value versus last year. The report states that the average price per litre in convenience is £2.35, 10p higher than in total market and 22p higher than the supermarket average.
At the time of writing this article, basket spend wasn't an issue for most stores. But the cider contingent still make very valuable customers compared with the average c-store shopper.
Cider shoppers visit their local c-store 4.8 times a week versus the average 3.8. They also tend to come in for the category 2.8 times a week as well, spending £9.45 on average (HIM 2020).
At the moment, with reduced stock, consumers might not be too fussy over what cider they buy. This will change as levels return to normal – and that's the time to capitalise on the newest trends. And for most shoppers this seems to be a turn towards premiumisation and craft cider.
"Crafted cider continues to be a star performer for retailers of all shapes and sizes," explains Sally McKinnon, head of marketing at Westons.
"Premiumisation continues to play a vital part in fuelling growth within a retail category that is currently in decline following a year without the same level of major sporting events as there were in 2018.
"In addition, with the current challenges we all face, it's also likely to be a sector that can continue to offer momentum over the coming months within retail."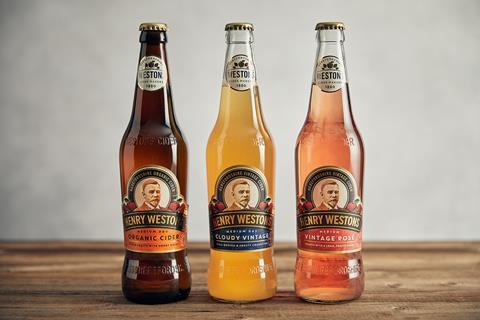 Keeping cider on tap
How do you respond to a crisis no-one saw coming? For Westons, it's a case of trying to keep calm while ensuring the cider still flows in the direction of stores.
"To keep pace with a current increase in demand, we have been increasing production of our popular portfolio of premium and crafted ciders – including Henry Westons, Stowford Press, Old Rosie, Rosie's Pig and Mortimer's Orchard – as a matter of urgency, so that we will be ready to fulfil increased demand," explains Darryl Hinksman, head of business development at Westons Cider.
"While we would naturally prefer to be operating under very different circumstances, it's important that we continue to meet both current and anticipated future demand in light of the ever-changing market dynamics that mean cider will continue to be on the nation's shopping list both now and in the future."
Happily, Hinksman says that the impulse channel is right at the heart of the cider category's ongoing success. He describes c-stores as the most "resilient" retailers on the high street in terms of cider sales – managing to outpace the mults.
The brand also suggests [through its 2020 Cider Report] that Quiet Night In, Chilling Out at Home and Enjoying with Food are all primary purchasing motivations for cider in convenience.
Of course, there'll be no shortage of those occasions over the coming weeks, giving retailers the chance to cross-merchandise meals/snacks and cider to signpost the nation's Big Nights In.
Over half (51%) of shoppers are likely to pay extra for a premium drink when out-of-home (Westons Cider Report 2020). What's more, the cider category hasn't yet seen the craft explosion that's rocked beer and inspired consumers looking for something different, so there's certainly potential for sales.
"We know cider shoppers are discerning, and are prepared to pay more for a quality, premium product," says Milton.
"Quality is everything, and stocking premium ciders will help your sales. With Thatchers quality comes first every time, so your shoppers will really appreciate the taste and flavour."
For many consumers this translates to trying out different flavoured ciders, such as Stowford Press Mixed Berries and Old Mout Berries and Cherries. Rosé is also a growing trend (see box) among shoppers who want to drink pink.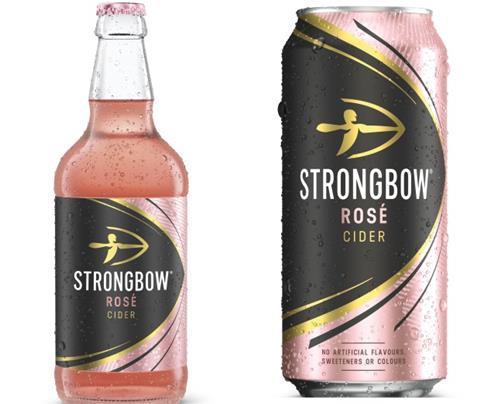 Cider with Rosé
Cider drinkers are an experimental lot. According to Mintel, 81% say they'd like to try out new flavours of cider when they buy (Mintel 2020).
With this in mind, it's no great shock that new flavours are front and centre in most brands' npd for 2020. After all, it's a chance to attract younger drinkers looking for bolder tastes – and ape the recent success of flavoured gins.
This summer the two key variants for retailers are pink/rosé and cloudy cider. Right now cloudy is the more established variety. It's worth £38.5m, up 20.4% on the previous year, and appeals to an audience seeking taste and authenticity (Westons 2020 Cider Report).
Meanwhile, rosé/pink cider is the young pretender, worth £7.3m (IRI 2019). Brands such as Thatchers, Kopparberg and Angry Orchard have all launched SKUs to buy into the trend. Currently it's not available on draft either, making it a nice exclusive for retail.
Strongbow is the latest big name to add a rosé variant, available in a 500ml bottle, four-pack of 440ml cans and a 10-pack of 440ml cans.
"Strongbow Rosé is one of the highest scoring concepts in terms of taste and appeal that we've ever tested," says Rachel Holms, brand director for Heineken's cider brands. "We think it's going to be one of the biggest product launches of 2020."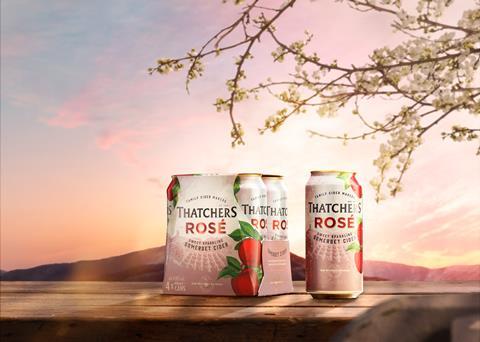 Thatchers Rosé, which launched at the end of 2018, has already seen success. "Cider shoppers love experimenting and finding something exciting and different," says Thatchers sales director Chris Milton.
"Thatchers Rosé saw amazing sales in its first year in 2019 – it's pink, sweet and sparkling – and really captures the imagination of those who want their drink to be part of the experience. Rosé is going to be on everyone's lips again this summer.
"There's a thirst for all things pink, especially for the Instagram generation."
"Cider shoppers love experimenting and finding something exciting and different," says Milton.
Craft is central: but don't forget more mainstream names either. Mainstream cider still accounts for 47% of the cider category, according to Nielsen (Nielsen 2020). What's more, names like Strongbow Dark Fruit and Strongbow Original still tend to do the business in-store.
Whatever you stock, challenging times mean inspiring shoppers to spend more by providing bright ideas. So even in lockdown it's a smart move to put a spotlight on cider's association with food. After all, if the weather plays ball we could see a rash of self-isolation barbecue sizzling going on in people's back yards.
With many BBQs and food-led occasions taking place during the season, retailers should not underestimate the importance of cross merchandising, claims Heineken UK. "Implementing cross-category merchandising for ciders that are 'Great with Food' is guaranteed to see an uplift in sales as consumers make the natural link between the two categories," says Toby Lancaster, category and shopper marketing director. "Cider food pairings are more popular than ever due to the wide range of flavours that the category offers. With so much variety available, there is a cuisine to match every type of cider, which presents an opportunity for retailers to introduce cross-category merchandising. Positioning favourites such as Bulmers alongside picnic and BBQ merchandise is just one example of how to achieve this in store."
Elsewhere in the chiller it could also be time to dip your toe into the low/no cider category. In the on-trade 41% of business leaders believe no- and low-alcoholic beverages will continue as a central trend for 2020. Plus, in the off trade no- and low-alcohol cider volume has grown 34% in the past year with increased penetration driving this growth (both stats Westons Cider Report 2020).
Health has become a major consideration for consumers, claims Aston Manor Cider. "This is evident with the rise in popularity of Dry January, which saw an estimated 4.2 million Britons taking part in this year's challenge," says brand manager Grace Anthony. "This greater focus on health has seen demand for low and no alcohol products increase, so it is crucial for brands to be offering relevant products for this category in order to maximise sales, particularly during non-peak periods such as Dry January when core ranges will be affected."
Sales of low/no products are still relatively low in most convenience stores yet as brands get on-board (with offerings like Thatchers Zero Alcohol Cider) it might be the year of the mindful cider drinker. And it's certainly something to think about for Dry January next year.
So, the overall picture in cider is anything but cloudy. In short premium brands are key, flavours are important for younger consumers (who are the big cider-drinkers) and low/no varieties are worth looking into for the chiller.
However, whichever way you slice the apple, it isn't going to be business as usual for c-stores this summer.
For 2020 retailers are going to have to think on their feet to keep the nation fed and watered while keeping the lines of communication open with suppliers. And when the sun comes out, cider is going to be on plenty of people's essential shopping list, making it a seasonal must-have.
I will definitely have a part to play when we finally get out of self-isolation and step blinking into the summer sun.
"It's going to take some time to get back to whatever our 'normal' is," says Milton. "But we're confident we're going to get through this. And when we do, hopefully the sun will be shining (still) and the summer will get back on track."
We can all drink to that.