Crumpton Oaks has undergone a rebrand, with a new brand mark and complete packaging redesign across its product range.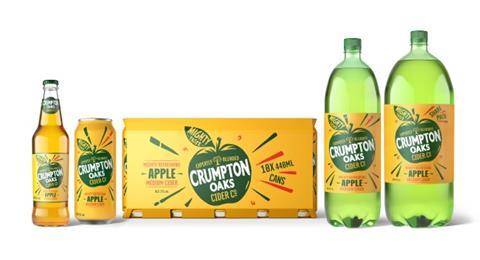 The new identity will be rolled out across all formats including glass bottles, cans and larger PET in the retail and convenience sectors from mid-July. It will be supported by an integrated consumer communication campaign – including an online competition, editorial partnerships and media outreach – as well as new product development with category leading innovation to help drive growth for the brand.
Alison Reilly, brand manager for Crumpton Oaks Cider Co at Aston Manor Cider, said: "We're unveiling our new look following extensive market research. The design is confident, straight-talking and stands-out to consumers. It communicates the mighty refreshing taste of Crumpton Oaks Cider Co and reinforces the belief that the 'simple things in life can be surprisingly good'.
"We wanted the new design to recognise the fantastic heritage and expertise that goes into every one of our products. We hope that consumers will appreciate the refreshed branding and join us as the business enters the next stage of its journey".
HIM data recently highlighted that 35-44 year-olds are more likely to choose cider rather than beer or wine when buying for a barbecue. For more insights on the category, check out Convenience Store's latest cider feature here.